Neonatology
What to Expect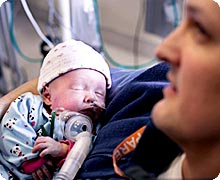 You may have received a diagnosis during your pregnancy, or your baby's condition may have come as a complete surprise. Either way, the critical illness of a child, especially a newborn, is always difficult.
We are committed to providing the best possible care for your baby, and to supporting you and your family.
Parenting a preemie or a very sick baby is different from parenting a healthy newborn. Talk with your nurse about ways to touch, hold and bond with your baby. Even if your baby is on a ventilator, you may be able to hold your baby.
We encourage you to trust your instincts, ask questions and share your concerns. It makes a difference.
You can rely on our staff to teach you about your child's condition and help you find resources to care for your child after you leave.
When you are admitted to the unit, you will receive a packet of information called Welcome to the Intensive Care Unit. It answers basic questions about a stay in the NICU.
At any point, if you have questions or don't understand something, ask your child's nurse, doctor or anyone on your healthcare team.
Your Baby's Transport to the NICU
Your baby will be calmly and safely transported to Seattle Children's by our expert, compassionate team of doctors, nurses and respiratory therapists. Watch the video to learn more about how our neonatal transport team will care for your baby every step of the way.
Being With Your Baby

We welcome you to be with your child as much as possible, 24 hours a day. Siblings, friends and other family members can visit between 8 a.m. and 8 p.m. If you cannot be at the hospital, talk with your nurse. You can pick two adults who can be with your child while you are away.
We will give you a pager so that your child's nurse can reach you when you are away from your child's bedside.
Patient Rounds
Every morning, your child's healthcare team of doctors, nurses and specialists will meet and discuss your child's care. You are invited to participate in these daily conversations, called "rounds." We hope you will use this time to share your insights, questions and concerns. Tell your child's nurse if you want to be part of rounds.
Postpartum Care
If you need postpartum care – care for yourself after having just given birth (such as wound care or staple removal) – talk to your nurse. If you do not have a local OB/GYN doctor near the hospital, we can refer you to the University of Washington Medical Center. Ask your social worker for help arranging this.
Breastfeeding
Providing breast milk for your baby is one of the most important ways you can contribute to your baby's future health. We will support you in breastfeeding your baby. The NICU has a special room with a breast pump. We also have breast pumps on wheels that can be brought to your baby's room. If the hospital where you gave birth gave you a breast-pumping kit, bring it with you. Your baby's nurse will help you get set up and start pumping.
For questions about pumping breast milk or breastfeeding, talk to your child's nurse or ask to speak with a lactation consultant. As a nursing mother, you are eligible for meal tickets ($5 per meal) for the first three days of your baby's stay in the NICU.
Support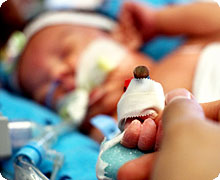 Social Work
Social workers can help you cope with the effects of your child's illness on your family. They can help your family:
Adjust to illness, make decisions or cope with grief
Find resources to help with food, a place to stay and transportation during your stay
Plan for and find the things you will need after a hospital stay
Learn more about Social Work services.
Spiritual Care
Chaplains provide pastoral, spiritual and emotional support to families from diverse faith traditions and cultures. They are available 24 hours a day to:
Help you cope with or talk through major decisions
Provide prayer or sacraments (baptism, etc.)
Help find faith group leaders in your community
Learn more about Spiritual Care.
Bioethics Consultation Service
Ethics consultations are available to help you sort through confusing or difficult medical issues. Talk with your child's nurse, or dial zero and ask the hospital operator to page an ethics consultant.
A Place to Stay
We have limited parent sleeping rooms in the Family Resource Center. The NICU unit coordinator assigns these based on your child's condition. Each room has one twin bed. Siblings are not allowed to stay overnight. Showers and laundry are here for your use at no charge.
You may also be eligible to stay at Ronald McDonald House.
If you need help with transportation, getting to or from the airport or finding a place to stay while your baby is in the NICU, Social Work or Guest Services can help.
Additional support services are available through the Family Resource Center. Learn more about family support services online.
More information is in Your Guide to Seattle Children's in your child's room, or you can talk with your child's nurse.
Stay Connected
Your baby's room has a free, wireless, high-speed Internet connection. You can create a free and easy-to-use CaringBridge web page to help stay in touch with family and friends during your child's hospital stay.
Leaving the NICU
When your baby is ready to leave the NICU, you may be transferred to another unit at Seattle Children's or to a hospital near your home. Your child's nurses and doctors will work together with the new care team to ensure a smooth, safe transition. If you have any questions about leaving the NICU, talk with your nurse.
If your baby was brought to Seattle Children's from outside the Seattle area, we can help you and your baby get back to your hometown.