About Seattle Children's
U.S. News & World Report Rankings
#1 in the Northwest, Year After Year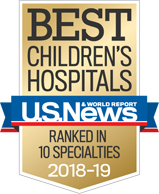 For more than 25 years in a row, U.S. News & World Report has named Seattle Children's as one of the nation's top children's hospitals. This means your child will be cared for by the very best.
Seattle Children's once again ranks #1 in the Northwest, according to the 2018 U.S. News & World Report rankings of more than 100 children's hospitals. We are honored to be the only pediatric medical center in Washington state to be ranked.
Nationally Ranked in 10 of 10 Specialty Areas
U.S. News & World Report ranks pediatric hospitals in 10 specialty areas. Our 2018 rankings:
About the Rankings
U.S. News & World Report ranks hospitals on quality-related information, including hospital survival rates, nurse staffing ratios, availability of specialty care, safety and reputation. Please note that U.S. News & World Report does not survey and rank all specialties. Of the over 40 specialties provided at Seattle Children's, the Best Children's Hospitals survey ranks 10 total specialties.
"Having a child who is born with or develops a serious illness is one of the most difficult situations a parent can face," said Ben Harder, chief of health analysis at U.S. News & World Report. "Our Best Children's Hospitals rankings are designed with parents and young patients in mind. By having access to the most comprehensive data available to supplement guidance from their pediatrician, families are able to make better-informed decisions about where to seek high-quality care for their children."
Visit the U.S. News & World Report website for more information about the rankings.
Learn More About Seattle Children's Specialties