What to Expect
Event Monitor
What is an event monitor?
An event monitor is a device, smaller than a deck of cards, that records the heart's rhythm. It is noninvasive. It is often used to track symptoms such as fast heart rhythms, dizziness and chest pain.
Event monitoring is very similar to Holter monitoring. An event monitor only records a heart rhythm when your child feels symptoms and they or you push a button on the monitor. A Holter monitor records all the time.
Why is an event monitor used?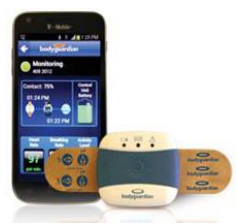 Event monitoring is used to observe the heart's rhythm at specific times. In general, it is used when somebody feels fast heart rhythms or skipping beats (palpitations). The monitor allows the doctor to see if there is anything unusual about your child's heart rhythm when your child feels those symptoms.
How does an event monitor work?
The monitor has 3 parts:
A base sticker that you stick to your child's chest
A monitor that snaps onto the base sticker
A mobile phone to transmit data back to the monitor company, Preventice
When your child feels a symptom, such as chest pain, dizziness or heart palpitations, they or you record by pushing a button on the monitor. The monitor records a "snapshot" of your child's heart rhythm, from 30 seconds before the push to 30 seconds after. Your child will not feel anything from the device while it records.
The phone automatically sends the recording to Preventice. To work correctly, the phone must stay charged and be within 10 feet of the monitor. Preventice is available 24 hours a day to evaluate the recording. They will tell your child's doctor if there are any concerns. The doctor will look at the recording to see if your child is having an abnormal heart rhythm (arrhythmia).
If there is an arrhythmia, your child's doctor will make a plan, and the doctor or nurse will call you within a few days to talk about the findings.
Read more about using an event monitor (PDF) (Russian) (Spanish).
How long does it take?
Your child will wear the monitor for up to a month at a time. After 1 month, the monitor company will call and remind you to return the monitor. If you are not sure if you should return the monitor or keep it for another month, call the Heart Center at 206-987-2515.
Contact Us
Contact the Heart Center at 206-987-2515 for a referral, a second opinion or more information.
Providers, see how to refer a patient.
Paying for Care
Learn about paying for care at Seattle Children's, including insurance coverage, billing and financial assistance.