Cancer and Blood Disorders Center
Strong Against Cancer
Erin Cross traveled from England to Seattle Children's to participate in a cancer clinical trial because she was running out of options – and out of time. Despite years of chemotherapy, Erin's leukemia was back and unresponsive to treatment. Her life expectancy was measured in weeks. Now, thanks to immunotherapy, Erin's leukemia is in remission.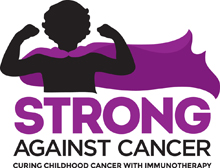 The T-cell immunotherapy trials at Seattle Children's are funded in part by Strong Against Cancer, a national philanthropic initiative with worldwide implications for curing childhood cancers without prolonged chemotherapy and radiation. Immunotherapy enables a child's own immune system to latch onto and destroy cancer cells. When you support Strong Against Cancer, you make immunotherapy research and clinical trials possible. This research is already showing astonishing promise – saving lives and providing hope.
We have the science. We have the track record. All we lack are the funds to bring this treatment to more young patients.