Get Your Business Involved
Purchase a Miracle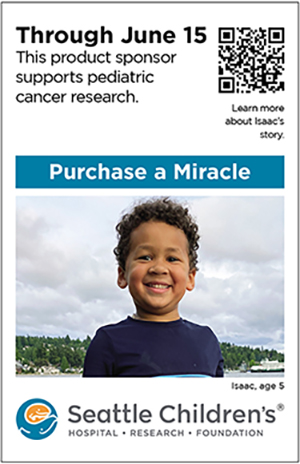 Since 1988, the Purchase a Miracle campaign has brought together the grocery industry and consumers to raise money for Seattle Children's.
Every May 1 to June 15, volunteers place shelf tags beneath products of participating sponsors in hundreds of retail stores across Washington state. When you choose products with the Purchase a Miracle shelf tag, you are helping support cancer research at Seattle Children's.
Get Involved With Purchase a Miracle
Become a sponsor

Purchase a Miracle is effective cause marketing for your product, and we welcome new Purchase a Miracle sponsors each year. If you have a product sold in grocery or drug stores, and you would like to join the Purchase a Miracle campaign, please review our current Purchase a Miracle sponsor sign-up form (PDF) to learn more about how to become a sponsor.

Please note that to join the current year's Purchase a Miracle campaign as a sponsor, you must sign up before March 1. For more information, email Jane Stiehl.



2023 Purchase a Miracle Sponsors

Aqua Star
Boston Market Frozen Entrees
Dilettante Chocolates
Don Francisco's Coffee
Fidalgo Coffee
Fisher Scones and Canterbury Naturals
Franz Family Bakeries
Hempler's and Isernio's
Krusteaz
Oberto Specialty Meats
Oroweat Bread, Thomas Bagels and English Muffins
Polar Seltzer
S&W Beans
Stash Tea
Swire Coca Cola
Talking Rain and Sparkling ICE
Theo Chocolates
Tillamook
Yami Yogurt and Zoi Greek Naturals

Become a volunteer

Purchase a Miracle would not be possible without the help of hundreds of guild members and community members who volunteer their time to place tags in participating stores.

If you would like to volunteer to place tags in your local grocery or drug stores, please email Jane Stiehl.

Become a retailer

Purchase a Miracle retailers help raise funds for Seattle Children's by displaying shelf tags in stores as well as through employee giving campaigns, checkstand promotions and special events. If you are interested in becoming a participating retailer, email Jane Stiehl.

Thank you to participating retailers

Albertsons
Cost Cutter
Food Pavilion
Fred Meyer
Haggen Northwest Fresh
IGA
the Markets
Market Place
QFC
Red Apple Markets
Saars Marketplace
Safeway
Thriftway
Town & Country Markets
Funding Spotlight
Oberto Specialty Meats is an annual sponsor of Purchase a Miracle. Oberto raises additional funds through their annual employee giving campaign which includes a generous 2:1 corporate match.