Get Your Business Involved
Seattle Children's Corporate Leadership Council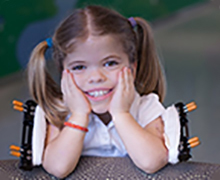 Since 2001, Seattle Children's Corporate Leadership Council (SCCLC) has brought together our corporate friends who are committed to sharing ideas and working together to provide philanthropic support through promotional events and activities. In addition to volunteering time, each organization commits to raising $25,000 or more annually. The council meets twice a year under the leadership of its chair, Bender Cunningham, host/executive producer of Mornings With Jodi and Bender, 95.7 The Jet.
For more information on joining SCCLC, email Eve Kopp or call 206-987-4837.
Fundraising Spotlight
Wizards of the Coast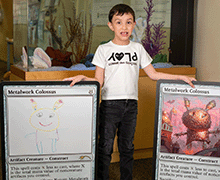 Board and video game publisher Wizards of the Coast has been a community partner of Seattle Children's since 1996. This year, Wizards of the Coast rallied their community with an online fundraiser through Extra Life. "Magic: The Gathering Secret Lair Drop Series and Arena Sleeves" raised significant support for Seattle Children's Autism Center.
ACE Hardware
Alaska Airlines
Amazon
Auction of Washington Wines
Baird
Bristol Myers Squibb
Conifer Foods
Costco Wholesale Corporation
Credit Unions for Kids
Dairy Queen
Delta Air Lines
Denali Advanced Integration
Fred Meyer and QFC
Great Clips
iHeartMedia Seattle
International House of Pancakes
Jersey Mike's Subs
John L. Scott Foundation
JP Morgan Chase
Kiwanis Children's Cancer Program Seattle
Log a Load for Kids
Marriott
McLane Northwest
McLendon Hardware
Nordstrom, Inc.
Oberto Specialty Meats
Panda Express
PCL Construction Services
RE/MAX
Rite Aid
Safeway Albertsons
Schuchart
Seattle Mariners Care
Seattle Storm
Spirit Halloween Superstores, LLC
Talking Rain Beverage Company, Inc.
The Bungie Foundation
Tinte Cellars
Walgreens
Walmart and Sam's Club
Washington State Elks Association
Wells Fargo
Wizards of the Coast
zulily