Gastroenterology and Hepatology
Research and Clinical Trials
Through research and clinical trials, Seattle Children's gastroenterologists and hepatologists are discovering new cures and treatments.
With a top-20 national ranking by U.S. News & World Report, our Gastroenterology Program is the highest-ranked program in the Northwest. Many of these same gastroenterologists and hepatologists are leading pioneering research efforts that range from curing hepatitis C to finding new dietary therapies to treat inflammatory bowel disease (IBD).
Our doctors work to transform treatment and improve outcomes through research and clinical trials. Seattle Children's Research Institute is 1 of the nation's top 5 pediatric research centers. Ask your provider if there is a study in which your child may be eligible to participate.
We invite children and their families to participate in our studies. By participating in a research study, your child will have access to some of the latest GI treatment and therapies, and receive support and care from our research team.
Below is a list of our research efforts.
Pancreatitis
Dr. Matthew Giefer published research results that provided hope to pediatric patients like Amber Louden who underwent treatment for pancreatitis.
Most research on pancreatitis (inflammation of the pancreas) has studied the disease only in adults. To help improve treatments for recurrent and chronic pancreatitis in children, our gastroenterologists are participating in a National Institutes of Health (NIH) study. Learn more about the INSPPIRE Pediatric Pancreatitis Research Project.
In 2017, Dr. Matthew Giefer, director of gastrointestinal endoscopy at Seattle Children's, published a study suggesting that early-onset pancreatitis in children is strongly associated with certain genetic mutations and a family history of pancreatitis. Read about Amber Louden, who was treated by Giefer, and her hope that the discovery of a family link could mean earlier diagnosis for children.
Inflammatory Bowel Disease (IBD)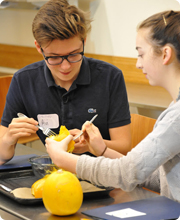 Avi Shapiro achieved remission from Crohn's disease through a unique diet called the specific carbohydrate diet (SCD). Now, he has made it his mission to share the benefits of the diet with other kids like him.
The IBD Center brings a team of specialists together in one place to give your child and family the most complete care. Our doctors do research about the causes of the disease so we can find better treatments that improve the quality of life for children with IBD. From new pharmaceutical treatments to holistic nutritional therapy, we offer innovative therapies not offered elsewhere.
Seattle Children's gastroenterologist Dr. David Suskind has discovered that a diet called the specific carbohydrate diet (SCD) can bring pediatric patients with active Crohn's and ulcerative colitis into remission. Learn how Avi Shapiro, a teen with Crohn's disease who was treated by Suskind, used this nutritional approach.
Hepatology Research
Hepatology is the study and treatment of liver diseases. Seattle Children's is home to the only liver (hepatology) and liver transplant programs for children in the Pacific Northwest. Read more about our Hepatology Program and Liver Transplant Program.
Doctors in both programs are researching and developing new treatments for liver disease in children. We're able to offer many treatments that are available only through clinical studies. This means our patients have access to some of the most current, state-of-the-art therapies.
Breakthrough in hepatitis C treatment
Seattle Children's hepatologist Dr. Karen Murray is playing a leading role in finding a cure for hepatitis C in children. She recently led studies that resulted in 2 hepatitis C drugs (Sovaldi and Harvoni) being approved for children 12 and older.
Murray is now studying whether Sovaldi and Harvoni can be used to treat kids who are younger than 12. She hopes this ongoing research will soon lead to Food and Drug Administration (FDA) approval of these medicines for children as young as 3 years. Read about Talon Hendrickson-Zimmerman, who participated in the trial and is now hepatitis-free.
Other research we participate in
Short Bowel Syndrome
The experimental drug teduglutide had a life-changing effect on Brennan Henderson.
The Intestinal Rehabilitation Program uses the latest treatments to help a child's intestine work well if affected by disease (like short bowel syndrome), injury or a surgery that removed part of it. With recent advances in diet, medicine and surgery, we have greatly reduced the need for intestine transplants in children. Our ongoing research on short bowel syndrome helps us better understand this rare disorder and discover better treatment options.
Dr. Simon Horslen, head of the Intestinal Rehabilitation Program, was involved in a clinical trial to study the effectiveness of the drug teduglutide in treating children with short bowel syndrome. Read how the experimental drug had a life-changing effect on Brennan Henderson's severe symptoms.
Participate in Research
You can help us answer questions about childhood health and illness, and help other children in the future. We invite children and their families to participate in our studies. By participating in a research study, your child will have access to some of the latest treatments and therapies, and will receive support and care from our research team. Participation is voluntary. Your child will receive the same quality care whether or not you participate.
Get answers to common questions about taking part in research, including how we protect your child's health and safety during research. If you're interested in learning more, please contact us at GIresearch@seattlechildrens.org.
Ways to Help
Private donations help our researchers launch studies that could lead to lifesaving treatments. Email us to learn about supporting Gastroenterology and Hepatology research.