Feb. 16, 2023
With the advent of successful vaccination against COVID-19, much of the world has moved forward to a safer coexistence with the virus. But for very young children, vaccines have only been available through emergency use authorization and lacked longer-term analysis of their safety, effectiveness and optimum dosing. New findings from Seattle Children's Research Institute's Center for Clinical and Translational Research reveal the vaccine's safety and efficacy in children ages 6 months to 4 years.
Pediatric hospitals and providers across the nation, including Seattle Children's lead study investigator Dr. Janet Englund, published findings in the New England Journal of Medicine showing a 3-microgram dose of the Pfizer COVID-19 vaccine was safe and effective in young children when given as three doses.
The researchers found overall vaccine efficacy against symptomatic COVID-19 in children 6 months to 4 years of age was 73.2% one week after the third dose.
Further, the researchers found that the vaccine was effective against emerging strains of the virus; the new Omicron variant was circulating at the time of the study.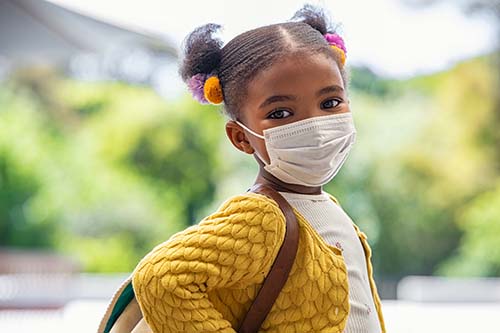 The patients generally experienced mild to moderate symptoms, such as fever or tenderness at the vaccination site, resolving within one to two days of administration.
Vaccination of pediatric patients is important because while COVID-19 is generally mild in children younger than 5 years, severe disease, hospitalizations and effects such as multisystem inflammatory syndrome can occur. Additionally, pediatric hospitals have seen record numbers of patients in the past year. During the outbreak of the Omicron variant in early 2022, COVID-associated hospitalization increased five times over the previous year (when the Delta variant was circulating) among children younger than 5 years of age. Children carrying the virus can also play a large part in the circulation of COVID, increasing transmission rates. Safe and effective vaccines not only help lessen the onset of severe symptoms in young children, they are an important step in decreasing the spread of the pandemic.
No data had been previously published on the importance of a required three-dose series of Pfizer mRNA vaccine in young children. This data shows that for young children, including COVID-19 with routine vaccinations would be beneficial.
"In light of the new CDC recommendations, making the two- or three-dose primary series and booster COVID-19 vaccine a part of vaccination schedules for children starting at 6 months of age is highly encouraged," Englund said.
This research effort was supported by fellow Children's investigators, Drs. Janet Englund, Surabhi Vora and Alpana Waghmare, the Children's Pediatric Infectious Disease Research group and various Children's research support services teams (Pediatric Clinical Research Center, Investigational Drug Service and Research Lab Services), and conducted across many sites nationally and globally, including Texas Children's Hospital, Baylor College of Medicine, Stanford University School of Medicine, Vaccine Research and Development in New York and other sites in Germany, Poland and Spain.
Englund said she is grateful for those in the Seattle area who championed the study. "This research study found tremendous support from the community, including schools, community pediatricians, the Pediatric Infectious Disease Research group and many staff and work units throughout Seattle Children's Hospital and Research Division," she said.
Studies of bivalent doses of standard and Omicron virus in the Pfizer mRNA vaccine are now ongoing at Seattle Children's Hospital under the Pediatric Infectious Disease Research group, directed by Englund. One goal is to potentially make a COVID-19 vaccine with multiple updated viruses a part of the regular immunization schedule. For now, it is important to recognize the safety and significance of effective vaccinations for the population of youngest children, keeping their well-being top of mind.
This work was supported by Pfizer and BioNTech.
-Empress Rivera-Ruiz