Research Centers and Programs
Piliponsky Lab
Welcome to the Piliponsky Lab
The Piliponsky Lab studies inflammatory responses involving mast cells and myeloid cells. Our goal is to understand how the body controls the immune system's response to bacterial infections – and how this process becomes dysregulated. Our research includes:
Studying how basophils and mast cells regulate inflammation
Our lab characterized new mouse models to analyze the role of mast cells and mast cell specific proteases in adaptive and innate immune responses such as IgE-dependent biologic responses (i.e. anaphylaxis) and sepsis.
Our current research builds on this work by focusing on the role of basophils and mast cells in the regulation of inflammation during bacterial infections. Our basophil studies indicate that these rare cells play a major role in the initiation and enhancement of the host immune response against infection and are one of the main focus of our research.
Our current studies in the field of mast cells indicate that mast cell- specific proteases can shape the host response to bacterial infection via proteolytic cleavage of mediators that contribute to inflammation or coagulopathies in sepsis.
Overall, we think that these studies will lay the groundwork for future projects aimed at exploring the therapeutic potential of newly-identified pathways and mediators and therefore may prevent the dysregulated inflammatory response that is associated with multiple organ dysfunction and death in sepsis.
Investigating mast cells in group B streptococcus
Group B streptococcus (GBS) infections during pregnancy lead to preterm births, stillbirths or infections in human neonates. In human newborns, GBS infection is associated with pneumonia, bacteremia, sepsis and meningitis, and these infections have a 10% mortality rate. Because mast cells are resident immune cells in the lower genital tract, we opened a new line of research in collaboration with Dr. Lakshmi Rajagopal to investigate mast cell contribution to host response against GBS.
Our studies indicate that mast cells diminish colonization of an hypervirulent/hyperhemolytic strain of GBS from the vaginal microenvironment. We have also demonstrated that mast cell chymase decreases the severity of systemic GBS infection and rates of preterm birth through its ability to downregulate GBS-extracellular matrix interactions via proteolytic degradation of fibronectin. These results provide novel insights into mechanisms that can decrease the incidence of GBS infections in humans.
Our goal is to continue to improve our understanding of innate immunity against – and reveal mechanisms by which – mast cells protect against GBS.
Studying epithelium-derived cytokines in sepsis and acute lung injury
The immune response that predominates in the clinical sepsis phenotype varies between patients. Some healthy young adults respond with a profound imbalanced cytokine response to infection that can lead to death caused by hyper-inflammation and multiple organ failure. A critical knowledge gap in the understanding of the pathogenesis of sepsis in this type of patient rests on the understanding of the mechanisms that regulate the innate immune response against bacteria and injury.
Our studies indicate that the pathogenesis of hyper-inflammation can be explained in part by the release of cytokines with pro- and anti-inflammatory capabilities from damaged host tissue. Specifically, our studies are focused on the contribution of thymic stromal lymphopoietin (TSLP) to sepsis and sepsis-induced acute lung injury. TSLP is a member of the IL-2 cytokine family and is a distant paralog of IL-7. TSLP expression can be induced in epithelial cells by stimuli present at the early stages of the septic response, such as microbes, pro-inflammatory cytokines (e.g., tumor necrosis factor [TNF], IL-1β, and IL-17), and injury.
Our data with sepsis and ALI models indicate that TSLP limits inflammation and reduces morbidity and mortality without affecting the Th1/Th2 balance. Our lab continues to be involved in mechanism-oriented research on the role TSLP in the regulation of inflammation during sepsis and ALI.
Publications
See a complete list of Dr. Adrian Piliponsky's publications on PubMed.
Investigator Biography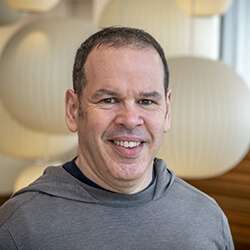 Adrian M. Piliponsky, PhD
Adrian Piliponsky, PhD, is a principal investigator at Seattle Children's Research Institute; an associate professor in the department of pediatrics at the University of Washington; and an adjunct associate professor in the UW Department of Pathology.
Contact Us
Physical Address
Seattle Children's Research Institute: Jack R. MacDonald Building
1900 Ninth Ave.
Seattle, WA 98101