Research Centers and Programs
Hernandez Lab
Welcome to the Hernandez Lab
Mycobacteria are a unique group of bacteria, also referred to as "acid fast bacteria," including the causative organisms of diseases of global and pediatric significance. Mycobacterium tuberculosis, the causative agent of tuberculosis, kills over 1 million people per year. Non-tuberculosis mycobacteria (NTM) are a group of diverse, but related, organisms, including members of the Mycobacterium avium complex and the Mycobacterium abscessus group. NTM cause lung and other infections in patients with underlying conditions, such as cystic fibrosis, HIV/AIDS and other immune deficiencies.
In the Hernandez Lab, we use a combination of genetics, molecular biology, cell culture models and animal models to probe the interactions between mycobacterial pathogens and host immune cells. Using these tools, we try to answer multiple questions:
How do mycobacteria survive within host immune cells? What are the genetic programs in bacteria that facilitate their survival?
How do the interactions between mycobacteria and immune cells make the bacteria less susceptible to killing by antibiotics? Can we identify strategies to enhance activity of antibiotics against bacteria that are tolerant to them?
Tuberculosis and other mycobacterial infections require treatment with multiple months of potentially toxic antibiotics. We hope answering these questions will serve as a basis for developing new strategies to improve the efficacy and shorten the duration of antibiotic regimens for mycobacterial infections.
Lab News
Hernandez and Sherman Labs awarded NIH grant to combat Mycobacterium abscessus
The Hernandez and Sherman Labs have been awarded a $250,000 NIH grant from NIAID with collaborators at the University of Michigan. The two-year grant funds a cross-institution collaborative pilot project that will measure the effectiveness of a panel of drug combinations targeting Mycobacterium abscessus (MABSC), a bacterium related to tuberculosis that causes difficult to treat infections in patients already suffering from other lung diseases. Cure rates for MABSC infections can be 20% or less; and recent evidence suggests that highly drug resistant strains may spread through susceptible populations, such as patients with cystic fibrosis.
The Sherman Lab previously worked with collaborators at the University of Michigan to build a model (INDIGO) for identifying drug combinations active against tuberculosis. The Hernandez and Sherman Lab will adapt the INDIGO model to predict how well novel antibiotic combinations will work against MABSC and then test the effectiveness of these combination therapies in a preclinical model to identify antibiotic regimens that may soon prove useful in the clinic.
Investigator Biography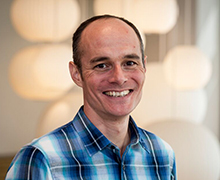 Rafael E. Hernandez, MD, PhD, is a member of the Center for Global Infectious Disease Research (CGIDR) at Seattle Children's Research Institute and an acting instructor in the Department of Pediatrics, Division of Infectious Diseases, at the University of Washington.
Contact Us
Physical Address
Seattle Children's Research Institute: 307 Westlake
307 Westlake Ave. N
Seattle, WA 98109