News and Updates
Vitanza Lab awarded 1 million dollar grant by the We Love You Connie Foundation
August 2022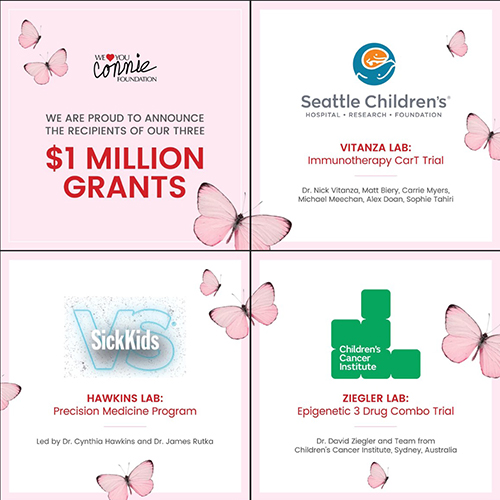 Dr. Vitanza and his lab have been awarded a 1 million dollar We Love You Connie Foundation research grant. Over 20 DIPG focused research teams were invited to submit a proposal and Dr. Vitanza was one of the recipients, along with Drs. Cynthia Hawkins & James Rutka at SickKids Hospital (Toronto, CAN) and Dr. David Ziegler of Children's Cancer Institute (Sydney, AUS). This generous grant funding will be used to support laboratory scientists and cancer immunotherapy research that will take place in the Vitanza Lab over the next 4 years and lead to a new CAR T cell trial. Seattle Children's and the Vitanza Lab are incredibly thankful for this partnership as we look to expand and improve treatment options for children with DIPG.
International Society of Neuro-Oncology (ISPNO) Symposium
June 2022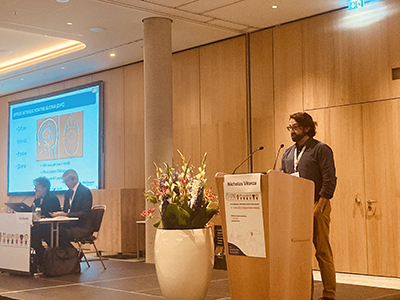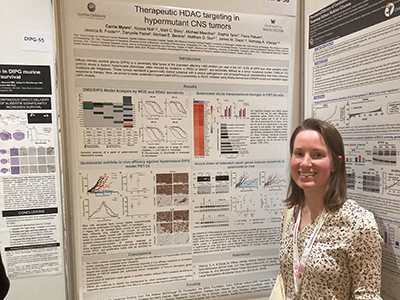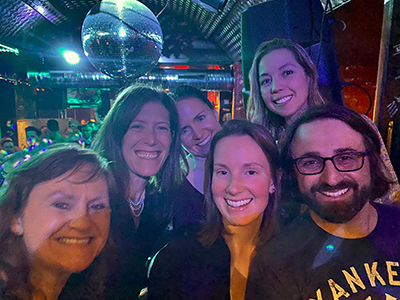 Seattle Children's neuro-oncology, immunotherapy, and Vitanza Lab team members were thrilled to travel to Hamburg, Germany for the biennial International Society of Neuro-Oncology (ISPNO) Symposium. Nick Vitanza had two abstracts selected for oral presentations: "Interim analysis from BrainChild-03: Seattle Children's locoregional B7-H3 CAR T cell trial for children with recurrent CNS tumors and DIPG" and "Targeted mass spectrometry of serial CSF and serum specimens from children with diffuse intrinsic pontine glioma treated with intracranial B7-H3 CAR T cells". Neuropathologist Bonnie Cole presented her research "A pilot study of clinical minimal residual disease detection in pediatric embryonal brain tumors" and Vitanza Lab scientist Carrie Myers presented "Therapeutic HDAC targeting in hypermutant CNS tumors." Most importantly, this meeting continued to fuel ongoing collaborations and spark future joint projects in our international effort to cure brain and spinal cord tumors of childhood.
New Lab Hire
November 2021
The Vitanza Lab is excited to announce the hire of a new research scientist, Michael Meechan, who has years of experience working with pediatric cancer models and CAR T cell studies in Seattle Children's Jensen Lab and Seattle Children's Therapeutics. His expertise in testing targeted cellular therapies and directing large in vivo studies immediately compliments the direction and skills within the Vitanza Lab and will allow growth of our programs. His presence will help accelerate our work and our collaborations with national and international partners aiming to cure malignant pediatric CNS tumors.
October 2021
Dr. Nicholas Vitanza was interviewed by Drew Amorosi of Healio to discuss the preliminary findings of his CAR T cell trial BrainChild-01 that were published in the journal Nature Medicine (September 2021). City of Hope's Leo Wang, MD, PhD provides a commentary on Dr. Vitanza's study and results.
September 2021
Dr. Nicholas Vitanza was interviewed by News Nation to discuss the current state of national pediatric cancer funding in the United States and the goals of his lab. He also focused on the tolls of current cancer therapies.
Dr. Vitanza shared that, "Unfortunately, for almost all pediatric cancers, the initial therapy is some type of surgery. Pretty commonly, you have radiation afterward. And then you get cytotoxic, old-fashioned chemotherapy that does a lot of damage to the body. So children may have loss of their normal growth, infertility, nausea, and headaches. And these are effects that they have during their treatment, but then continue for the rest of their life. And so by the time they're adults, most pediatric cancer survivors have multiple chronic illnesses. In my lab, we look at immunotherapy and targeted genetic therapies that we can give to children that are really specific and personalized for their tumor. And hopefully, one day by doing this will avoid all the more toxic therapies."
Vitanza Lab Joins Seattle Children's Research Institute
July 2021
Dr. Nicholas Vitanza and his team of researchers have joined Seattle Children's Research Institute, bringing cutting-edge research to finding better treatments and cures for aggressive pediatric brain and spinal cord tumors.
The collaboration will leverage the missions and strengths of the Vitanza Lab and Seattle Children's Research Institute, as well as the clinical capabilities of Seattle Children's to mitigate the impact of diseases such as diffuse intrinsic pontine glioma (DIPG), diffuse midline glioma H3 K27M-mutant (DMG) and atypical teratoid rhabdoid tumor (ATRT).
"It has been a decade-long dream to direct a laboratory focused on curing pediatric central nervous system tumors," Vitanza said. "I have only been able to get to this point thanks to the support of my family, the generosity of so many patients and advocates and the daily collaborations among our pediatric neuro-oncology team members. We dedicate our work to all the affected patients still searching for options, and we will work tirelessly so that we can live in a world where all pediatric CNS tumors have cures."
The new lab team is located at the Ben Towne Center for Childhood Cancer Research at 1100 Olive Way in downtown Seattle.