Team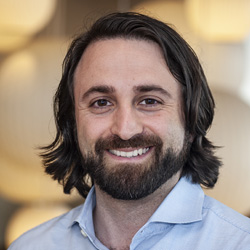 Nicholas Alexander Vitanza, MD
Dr. Nicholas Vitanza is a pediatric neuro-oncologist and translational scientist whose career is dedicated to the care of children with CNS tumors such as DIPG or DMG. During his oncology fellowship with Drs. Bill Carroll and Elizabeth Raetz at New York University, laboratory projects led to a COG clinical trial and an ASPHO award. He completed a second fellowship in pediatric neuro-oncology at Stanford University, followed by a post-doc in Michelle Monje's neuroscience/DIPG Lab, in which he performed high-throughput drug screens in patient-derived DIPG models and mechanistic analyses of epigenetic vulnerabilities in DIPG. This work led to publications in Cancer Cell and Science Translational Medicine, as well as the preclinical foundation for a phase 1 clinical trial for which he is a co-principal investigator.
In 2016, Dr. Vitanza joined the faculty at Seattle Children's Hospital. His current work focuses on creating treatment-naïve biopsy-derived patient-derived DIPG/DMG models, discovering and targeting molecular and immunologic vulnerabilities in these tumors and translating these findings into combinatorial clinical trials. Dr. Vitanza serves as Seattle Children's DIPG Research Lead, overseeing a dedicated research program spanning laboratory work to patient care, and CNS CAR T Cell Lead, overseeing three CAR T cell clinical trials. He also is principal investigator of two phase 1 locoregional immunotherapy trials using chimeric antigen receptor (CAR) T cells: BrainChild-01 (targeting HER2) and BrainChild-03 (targeting B7-H3). His work has been shared at international conferences such as the International Society of Pediatric Neuro-Oncology and published in journals such as Neuro-Oncology and Nature Medicine.
His goal is to better understand vulnerabilities in DIPG/DMG, to develop combinatorial CAR T-cell treatment and ultimately to translate scientific discovery into improved outcomes for affected children.
Matt Biery

Scientist

Matt earned a B.S. in biology at the University of Oregon and an M.S. in molecular biology at San Diego State University. He is excited to work on generating treatment naïve models for DIPG and other pediatric brain tumors and identifying promising targets and therapies.

Alex Doan

Graduate Student (PhD Candidate)

Alex earned a BS with honors and a MS in biology at Stanford University and is currently pursuing an MD/PhD through the MSTP program at the University of Washington. He is interested in cancer and immuno-oncology research and is excited to work on identifying novel targets and therapies for pediatric brain tumors. He identifies as first-generation and is also passionate about health and research equity.

Michael Meechan, BS

Scientist

Michael earned a B.S. in chemistry and minor in music at the University of Washington. He is passionate about preclinical translational research and leads the lab's in vivo studies. Michael investigates novel therapies in patient-derived tumor models of life-threatening pediatric central nervous system tumors with the hope of best informing future clinical trials.

Carrie H. Myers

Scientist

Carrie earned a B.S. in biochemistry at Purdue University. She has a passion for cancer research, focusing on areas ranging from intraoperative, fluorescence-guided imaging for tumor resection to T cell immunotherapy and pediatric brain tumor model development.

Sophie Tahiri

Graduate Student (PhD Candidate)

Sophie earned a B.A. with honors in neurobiology at New College of Florida, a MSc with Distinction in Molecular Medicine and Cancer Research at Brunel University London and is earning a PhD in Molecular Medicine and Mechanisms of Disease at University of Washington. She focuses on CAR T cell therapy for brain tumors.
Join the Team
Contact Dr. Nicholas Vitanza.