Residency Training Program
Cultivating Curious Minds at Work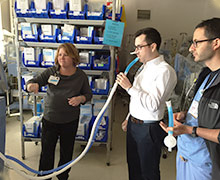 The residency program at Seattle Children's Hospital combines both inpatient and ambulatory experiences throughout the three-year period. Residents are exposed to a wide variety of both normal development and pediatric pathology in primary care, acute care and critical care rotations.
Because residents have the opportunity to tailor their rotations to enhance future career goals, no two schedules are alike. Ample learning opportunities exist in the form of senior morning report, resident noon conferences, academic half day didactic teaching sessions for interns, monthly journal club and informal team-based teaching.
See an example of clinical rotations (PDF).
Year One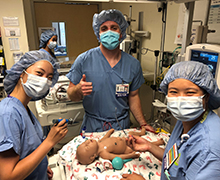 The R1 year is designed for residents to acquire the skills necessary to recognize children with manifestations of acute and chronic illness.
These skills are developed through a series of inpatient months on the general medicine acute care service, inpatient subspecialty services, the hematology/oncology service, the Neonatal ICU, the newborn nursery and consult services on electives, as well as outpatient months in continuity clinic and the Emergency Department.
R1 residents also have developmental pediatrics and/or adolescent medicine rotations which provide a broader understanding of typical and atypical pediatric development and behavior in the outpatient setting.
Year Two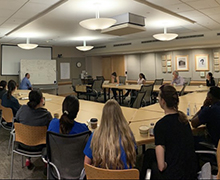 The R2 year promotes leadership, teaching and clinical decision-making skills.
A core element of the R2 year is the award-winning primary care experience in a rural setting of the Northwest (referred to as the WWAMI rotation). Regardless of eventual career path, nearly every graduate of our program identifies the WWAMI rotation as one of the most important and meaningful learning experiences in their medical training.
During inpatient ward rotations at Seattle Children's and in the University of Washington Medical Center Newborn Nursery and NICU, R2s play an important role supervising and teaching interns and medical students. Unlike many other residency programs, R2s and R3s serve in the same supervisory role on the wards and in the ICUs, providing two full years of experience in this role.
R2s also further their education in the Pediatric Intensive Care Unit and Seattle Children's NICU where they learn about complex medical management of critically ill infants and children. As R2s and R3s, residents rotate through Harborview Medical Center (HMC), the county hospital and the region's only Level 1 trauma and burn center. Rotations at HMC are unique in allowing residents to experience and practice the consulting physician role, which involves consultations in the emergency department, consultations for all inpatient trauma and burn pediatric patients and primary management of patients admitted to the pediatric trauma intensive care unit.
Year Three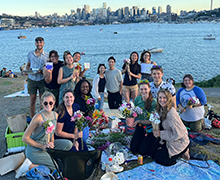 The R3 year of training allows each resident to further enhance their clinical, teaching, and leadership skills.
While preparing for the transition to life after residency, additional elective time is made available for the residents to explore additional training opportunities in pediatrics, hone their skills and concentrate on specific areas of interest.
Second- and third-year residents also have the opportunity to run a senior-only service of general pediatric patients, providing more autonomy and also providing dedicated time to teaching and quality improvement skills.