Residency Training Program
WAMI – Four-State Rural Community Training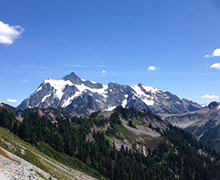 There are great opportunities to explore the Pacific Northwest while practicing rural primary care during the WAMI experience.
Commonly referred to as the "WAMI experience," rural community training sites in Washington, Alaska, Montana and Idaho have been a unique part of medical education at the University of Washington School of Medicine since 1971.
In second year, residents spend two months at one of six WAMI practice sites, learning from community pediatricians about primary care in a rural setting. These practices are located in Port Angeles, Yakima and Bellingham, Washington; Missoula, Montana; and Sandpoint and Pocatello, Idaho.
Because of the impressive size of the WAMI region, primary care pediatricians are widely dispersed, often in sparsely populated areas that do not have easy access to subspecialty pediatric consultative services.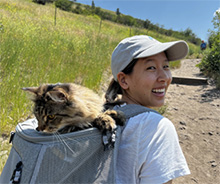 Pictured here is Dr. Daphne Cheng enjoying a hike with her cat in Missoula.
In addition to their primary care responsibilities, these physicians must frequently provide emergency stabilization and hospitalization of sick children and facilitate occasional transport of children to tertiary centers such as Seattle Children's Hospital.
Other demands on these physicians range from coordinating the input of multiple consultants in the care of chronically ill children to helping design community health services geared toward children.
As an integrated member of a rural clinic, residents have an opportunity to work with these experienced physicians in managing simple to complex pediatric patients. Residents may also work with community pediatric hospitalists in local hospitals.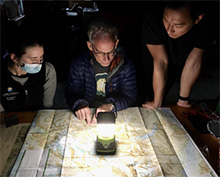 One of the EM attendings and wilderness medicine experts teaches the Alaska Track residents how to read a map in the wilderness.
This unique opportunity provides residents with a firsthand understanding of what it is like to be a practicing community physician away from the resources of a tertiary care center. Every year our residents, even those who don't anticipate a primary care career, rank the WAMI experience as one of the top educational opportunities of their training.