Thank you for your interest in fundraising for Seattle Children's! It takes involved people like you to engage communities to help us care for kids and their families.
The information below will help you in the brainstorming process as you decide what type of fundraiser you want to hold. Just remember...there is no experience needed to host a fundraiser. All you need is energy, enthusiasm and the desire to improve the health of kids!
Currently planning an event or have an idea? Reach out to us to get started.
What to Consider
Choose a fundraiser that is right for you – and then tell us about it!
From garage sales to wine tastings and lemonade stands to fun runs, fundraising events and projects of all shapes and sizes can make a big difference for kids. See our list of ideas to consider or come up with your own! Be sure to consider the size, interest, talents, goals and time availability of your group. How long it takes to plan and how much work it is depends on the fundraiser you choose and how much time you have to give. Once you have your idea, tell us about it!
Identify your target audience
Determine who is most likely to attend and support your event or project. Are you trying to attract the general public or a specific audience? Have a strategy in place to encourage people to attend.
Form a planning committee
Assemble a group to help plan and organize your event or project to ensure that you have a successful fundraiser. You are responsible for forming this group and for recruiting any volunteers you might need. Please keep in mind that Seattle Children's requires that individuals under the age of 18 have a mentor or adult advisor to oversee the coordination of a school of community event or project.
Seattle Children's is here to help! Depending on the nature and needs of your event or promotion, we may be able to offer representation and assistance. For more information, email us or call 206-987-2153.
Types of Fundraisers You Can Host
Keep in mind, this is not an inclusive list of what you can do, just a few ideas to get the creative process going!
Host your own or involve your neighborhood. Donate the proceeds to Seattle Children's.

From fun runs to golf tournaments, sporting events can be great fundraisers.

Host a dinner party for friends and ask guests to write a check to Seattle Children's for the amount it would have cost them to go out for dinner.

Connect with a vendor or winemaker to organize a wine tasting with a percentage of proceeds from bottle purchases as a donation to Seattle Children's.

Host a silent auction or live auction on its own or add one to a dinner party or wine tasting you're planning. We can provide templates for item procurement and bid forms.

Join with a neighborhood restaurant, bar or store to "take over" the establishment. You guarantee customers by pre-selling tickets or reservations, and the business donates a portion of sales or gratuities to Seattle Children's.

What do your friends like to do? Turn your love for scrapbooking, riding motorcycles or playing Bunco into a fundraiser by charging a fee to participate. Or gather people who love to swim, bike or dance, organize a marathon-style event. Ask others to support you by pledging per lap, mile or hour.

Do you know local bands? Host a benefit concert and donate the proceeds from admission sales to Seattle Children's.

Seattle Children's is unable to support vending machine, donation bin or collection box fundraising opportunities due to the resources required to respond to service, theft, replenishment and tracking.
Hosting a Fundraiser in Honor of Someone Special
You can host a fundraiser in honor or remembrance of a patient or loved one. Let us know in your fundraising application if your event or project is in honor or memory of someone, as we provide special recognition for these commemorative donations.
You can also mark birthdays, anniversaries and other milestones with donations to Seattle Children's.  
Fundraising Spotlight
Inmedix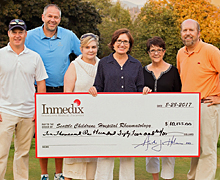 Thank you to our friends at Inmedix for your fundraising efforts at the 1st Annual Inmedix Golf Tournament to benefit Seattle Children's Hospital Rheumatology! We are grateful for your support.
Kevin Eddy Memorial Golf Tournament
Thanks to our friends at the 4th Annual Kevin Eddy Memorial Golf Tournament!