Fundraise for Seattle Children's
Interested in fundraising for Seattle Children's? Check out the different ways you can fundraise and browse our event ideas. We've also provided other useful tips to make it easy and fun! Currently planning an event or have an idea? Reach out to us to get started.
Is your fundraising event going virtual this year?
We've got you covered! Seattle Children's Virtual Fundraising Event Resource Guide provides advice, best practices and suggestions for services and platforms to make your virtual event a success!

Additional Options for Businesses and Companies
Does your business want to support Seattle Children's? Check out the additional ways to get your business involved.
Children's Miracle Network Hospitals

Children's Miracle Network Hospitals (CMN Hospitals) supports 170 children's hospitals across North America and has hundreds of corporate, media and celebrity partners that host thousands of events each year.
Seattle Children's is the CMN Hospital for Western Washington, which means that when you contribute to a CMN Hospitals promotion in this area, such as purchasing a Miracle Balloon at stores like Costco, Rite Aid and Walmart, your donation benefits Seattle Children's. Learn more about how your company can become a CMN Hospitals fundraising partner.
Fundraising Spotlights
Jersey Mike's Subs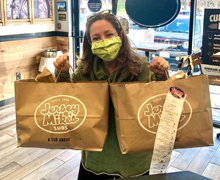 Jersey Mike's Subs hosts a month-long fundraising campaign each March in support of pediatric cancer immunotherapy research at Seattle Children's, including the donation of 100% of proceeds on a specific day.
McLendon Hardware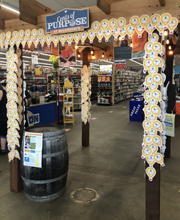 McLendon Hardware raises funds at each of their seven locations by asking customers to "round up" for Seattle Children's during their "Cents of Purpose" promotions and other in store events.