Conditions
Congenital Diaphragmatic Hernia
Why choose Seattle Children's for congenital diaphragmatic hernia?
Our Congenital Diaphragmatic Hernia Program offers more specialized care than any other children's hospital in our region (Washington, Alaska, Montana and Idaho). Our multidisciplinary team has cared for hundreds of children with a CDH, from prenatal diagnosis through early adulthood. We provide evidence-based care with excellent survival outcomes, even for the sickest babies.
During pregnancy, the CDH team at our Fetal Care and Treatment Center will check your baby's health to prepare for their birth and care. We work closely with your birth hospital and are national leaders in safely moving fragile newborns. We were the first children's hospital on the West Coast to offer mobile extracorporeal membrane oxygenation (ECMO). Seattle Children's has the largest Extracorporeal Life Support Program for babies, children and teens in the Northwest. Our Level IV Neonatal Intensive Care Unit (NICU) is skilled and equipped to care for the sickest newborns. Your child will receive care from Seattle Children's pediatric experts in surgery, hearts and lungs.
You are a key part of your child's care team. We fully support your family so you can bond with your newborn and take part in their care. As your child grows, our CDH Program gives your family a single place to get check-ups, follow-up treatment and advice from a team of experts.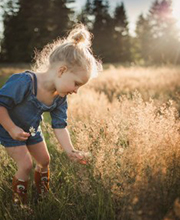 "There is so much patience and grace at Seattle Children's. Not only did my family start inside those walls, I also learned how to be a mom with the help of nurses, doctors and countless medical staff. I will forever be thankful."
– Cassie Fannin, who first came to Seattle Children's when she was pregnant with Summer.

See: After Life-Saving Surgery, Summer Overcomes the Odds
What are the symptoms of congenital diaphragmatic hernia?
Babies with a congenital diaphragmatic hernia (CDH) may have:
Serious breathing problems, starting soon after they are born
Increased work of breathing, for example, using belly muscles to breathe in
Rapid breathing
Fast heart rate
Breathing problems happen because:
Their lungs are smaller than normal.
Their hearts cannot pump blood easily to the lungs because the walls of the blood vessels are too thick.
The organs that slip through the hole between the belly and chest are pushing on their lungs.
Prenatal Care for Congenital Diaphragmatic Hernia
Our CDH prenatal team includes specialists in maternal-fetal medicine, surgery, neonatology, cardiology and genetics. During pregnancy, you can get to know members of the team who will be caring for your child after birth. At a visit to our hospital, you can see where we will care for your baby and learn about the resources we have for families.
A dedicated CDH team in our Fetal Care and Treatment Center will:
Monitor your baby's health during pregnancy
Do tests to determine the severity of your baby's CDH
Help you prepare for what lies ahead
Work with your birth hospital to plan for a safe delivery and the special care your baby will need at birth
Arrange your baby's safe transfer to Seattle Children's
We do these tests soon after your baby is diagnosed and sometimes later in pregnancy:
Fetal MRI

Fetal echocardiogram

: A cardiologist who specializes in fetal care and CDH will check the fetal echocardiogram. You will be able to meet with our cardiology team and discuss these results.
Follow-up care as your child grows
A few weeks after your baby goes home from the hospital, we will see them in our CDH follow-up clinic at Seattle Children's hospital campus. Most babies are seen a lot at first and less often over time. How often depends on how much feeding and breathing support they have when they first go home. We offer telehealth visits to families across our region (Washington, Alaska, Montana and Idaho).
We provide as much support as you need so you do not feel overwhelmed at home. If your baby leaves the hospital on a tube feeding and oxygen support, we help safely wean them off when they are ready.
Some children will have no long-term problems. But many children born with a CDH need care until their teen years or longer. Our CDH Program team has the specialists your child may need to manage and prevent all the known complications related to CDH. Our team includes a surgeon, pulmonologist, nutritionist and cardiologist.
To provide complete care for your child and family, we create a follow-up plan and a schedule that is right for your child. Some children may come only for a yearly check-up. Others may come more often.
Our team:
We focus on helping you know what to expect, such as:
How your child's condition and surgery may affect their growth and development
How often your child should visit for an exam
What tests they may need
Which treatments or services may help with your child's current health concerns
What to watch for so any new problems can be found and treated early
Ongoing health issues for some children include:
Overall outcomes for babies born with a CDH are excellent. Most children who receive follow-up CDH care at Seattle Children's meet expected milestones for growth and development by the time they start school. We look forward to supporting your family from the prenatal period through young adulthood. When the time comes, we help transition your child to a provider who cares for adults.
Contact Us
Prenatal care
Request a second opinion
We offer virtual second opinion consultations. Call 206-987-5629 or email the CDH Program. A member of our team will contact you within 2 business days to begin coordinating your consultation.
Follow-up care during childhood
Telemedicine at Seattle Children's
We offer telehealth visits to families across our region (Washington, Alaska, Montana and Idaho). Learn more about phone and video appointments.
Related Links
For Healthcare Professionals