Morgan Laboratory
Laboratory Team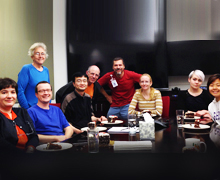 The Morgan and Sedensky laboratories share a team to support their search for a cure for mitochondrial diseases.
Ernst-Bernhard Kayser, PhD
Laboratory Director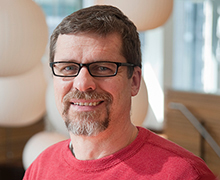 Ernst-Bernhard Kayser's research interest focuses on mitochondrial studies, which he conducts in worms and mice. His most recent project tries to elucidate how certain regions of the mouse brain degenerate while other regions survive the same mitochondrial defect that is present in all of the cells.
Kayser received his PhD in 1994, in the field of plant growth hormones, from the University of Bonn (Germany). A postdoctoral fellowship at Case Western Reserve University turned into a permanent stay in the U.S. With this move came a switch in Kayser's interest from plants to animals, and he developed into a specialist in mitochondrial physiology.
Beverley Dancy, PhD
Post-Doctoral Fellow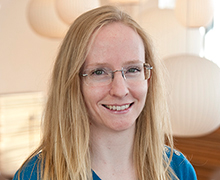 Beverley M. Dancy is interested in the molecular and cellular consequences of mitochondrial disease and potential therapies, which she is investigating in C. elegans. Her current work is focused on characterizing the beneficial effects of reversing the maladaptive overproduction of a certain enzyme in animals with complex I deficiency.
Dancy is originally from South Africa. She finished high school in Singapore and came to the United States on a scholarship to Lewis and Clark College. She received a PhD in pharmacology and molecular sciences from the Johns Hopkins University School of Medicine in 2013.
Nicole Brockway
Laboratory Technician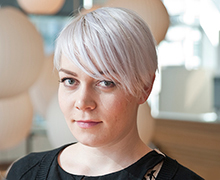 Nicole Brockway has a particular interest in the molecular mechanisms of mitochondrial dysfunction. She is assisting in a project studying the neurotoxic effects of general anesthesia using C. elegans. As an undergraduate student at Portland State University, she completed a thesis studying mitochondrial physiology traits in base excision repair deficient C. elegans. She received a BS from Portland State in biology, graduating with honors.
Beatrice Predoi, MD
Laboratory Technician
Beatrice Predoi provides the Morgan and Sedensky laboratories with key technical support by preparing and completing experiments to study multiple mitochondrial mutants. She is originally from Romania, where she earned an MD, and moved to the U.S. with her family in 2006. She received a certificate of proficiency in biotechnology after attending the Biotech Laboratory Specialist Program at Shoreline Community College.
Christian Woods
Research Associate III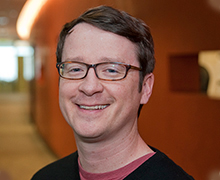 Christian Woods is interested in the underlying neurological mechanisms of the anesthetic response that is often altered in mitochondrial disease. His current work uses electrophysiological techniques to study synaptic transmission in the brains of mice with mitochondrial dysfunction. He previously worked at the Tulane Cancer Center, and at Rockefeller University with the Howard Hughes Medical Institute Laboratory of Neural Circuits and Behavior. He received a BS in biology from American University, graduating with honors