Research Centers and Programs
Health Equity Research Program
Building Capacity and Partnerships for Health Equity Research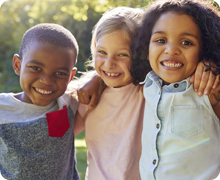 The Health Equity Research Program at the Center for Diversity and Health Equity is a multidisciplinary, collaborative child health equity research hub for information, resources, talent, expertise, data and partnership for expanding child health equity research at Seattle Children's and beyond.
The program is advancing health equity research and applying a health equity lens to all research through the following programs:
Health Equity Consultation
The program works closely with Seattle Children's Research Institute to lead and participate in reviews and recommendations for research institute policies to ensure that those policies are designed to enhance our ability to engage, enroll and retain diverse research participants and build a diverse research workforce.
Health Equity Research Mentored Scholars Award
The research institute funded the first Health Equity Mentored Scholars Award in fiscal year 2019 to Dr. Molly Fuentes, a Native American junior faculty researcher, for her mentored project, "Culturally Relevant Rehabilitation for American Indian/Alaska Native Children and Youth." This is a two-year award to support early career research faculty as a "bridge" to an NIH K Award. It provides salary support and project funding to allow the junior faculty researcher to build the preliminary work necessary to successfully apply for an NIH K Award.
Seed Grants and Language Access Grants
Each year, the program awards competitive seed grant funding to Seattle Children's researchers, who have utilized this for projects that have resulted in publications, larger grants and successful interventions. We also fund smaller language access grants that support currently funding research projects in expanding recruitment and enrollment to participants with limited English proficiency.
Seminars, Trainings, WIPs
The program currently sponsors seminars, research works-in-progress sessions and trainings to support Seattle Children's Research Institute/University of Washington researchers in the area of health equity research and community partnership in research. We currently sponsor four works-in-progress sessions per fiscal year for researchers at the Center for Child Health, Behavior and Development and the Center for Clinical and Translational Research to have a venue to share their health equity–related research works with other researchers and staff engaged in health equity and disparities, and gain critical feedback.
During 2019, in partnership with the Institute for Translational Health Sciences, the program is holding a four-part seminar series targeted to principal investigators, "The Science of Community-Engaged Research." The series includes four 90-minute sessions on topics including grant writing for community-engaged research (CER) and academic productivity in CER.