Research Centers and Programs
Health Equity Research Program
Building Capacity and Partnerships for Health Equity Research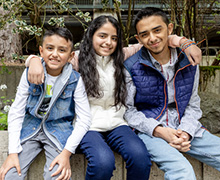 The Center for Diversity and Health Equity's Research Program is a multidisciplinary and collaborative hub for health equity research resources, expertise and partnership. Our goal is to expand child health equity research and practices within Seattle Children's and beyond.
We are advancing health equity research by applying a health equity focus to consultations, grant making, educational seminars and career development for trainees and researchers from diverse backgrounds and/or who focus on health equity research. The below programs would not be possible without the guidance of the Health Equity Research Community Advisory Council.
Our Programs
Health Equity Research Grants Program
The Health Equity Research Grants Program awards three grants each fiscal year to research trainees and early career faculty at Seattle Children's. The Mentored Scholars Grant, the Seed Research Grant and the Fellows and Residents' Health Equity Grant each have a slightly different focus. goal to fund projects with an emphasis on advancing health equity research.
Health Equity Consultation
CDHE provides consultation to build awareness for Seattle Children's workforce through education about anti-racism, health inequities and social determinants of health. We provide consultation to Seattle Children's workforce on equitable research practices for various aspects and stages of a research study (study design, recruitment, study procedure, data management, etc.)
For consultations on increasing engagement, enrollment and retention of racially/ethnically and economically diverse populations in research and community engaged research, CDHE partners with the ITHS Integrating Special Populations Program.
Trainings and Works-in-Progress Seminars
CDHE Research hosts works-in-progress (WIP) seminars and trainings to support researchers and staff interested in health equity research at Seattle Children's and the University of Washington. Each fiscal year, CDHE Research sponsors six WIPs in partnership with the Center for Child Health, Behavior and Development. These seminars allow researchers to share their health equity–related research projects with colleagues and staff and gain critical feedback.
Pathways Programs
Summer Scholars Program (SSSP)
In partnership with the Science Education department, the Summer Scholars Program (SSSP) provides undergraduate students, who have a background that is historically underrepresented in the biomedical and health sciences, an opportunity to engage in basic, clinical and/or translational research projects during the summer under the mentorship of principal investigators and their teams.
NIH Diversity Supplement Connections Program
In partnership with the Science Education department, the Diversity Supplement Connections Program aims to increase the applications for and use of National Institutes of Health (NIH) Diversity Supplements, to diversify research faculty, trainees and staff at the research institute.