Kristin Adams, PhD
Research Scientist III
Dr. Kristin Adams received her PhD in microbiology at the University of Washington in the lab of Dr. Lalita Ramakrishnan. Her graduate work focused on the development of early drug tolerance in pathogenic mycobacteria. She joined the Urdahl Lab in 2013 as a postdoctoral fellow where she is interested in understanding mechanisms that restrict the adaptive immune response in the TB-infected lung. While not in lab, she enjoys yoga, running and taking in as much Seattle sunshine as she can.
Holly Barrett
Graduate Student
Sara Cohen, PhD
Research Scientist III
Dr. Sara Cohen received her PhD in immunology and infectious diseases from Cornell University in 2014, where she studied the immune response to Toxoplasma gondii infection. She is currently a research scientist in the Urdahl Lab and is interested in understanding host-pathogen interactions during TB. She is excited to explore all the mountains, waters and tasty treats of the Pacific Northwest.
Lauren Cross, PhD
Fellow
Dr. Lauren Cross received her PhD in biomedical engineering from Texas A&M University in 2018, where she studied tissue regeneration. She joined the Urdahl Lab as a post-doctoral fellow in March 2019 and is excited to expand her knowledge of immunology through researching Mtb host-pathogen interactions. Outside of work she is embracing the Pacific Northwest rain or shine.
Kaitlin Durga
Research Associate I - Bench
Lindsay Engels, BS
Research Associate I
Lindsay Engels received her BS in cell and molecular biology from Central Washington University in 2019, where she studied the anthelmintic properties of natural products against hookworm infection. She joined the lab in July 2019 as a research associate. On weekends, she is excited to explore the various Seattle parks with her dog, Malcolm.
Benjamin Gern, MD
Acting Instructor
Dr. Benjamin Gern received his MD at the University of Wisconsin. Prior to and during medical school he studied Th17-mediated immunity to Blastomyces dermatitidis. He completed his pediatric residency at Oregon Health & Science University. Gern joined the Urdahl Lab as a pediatric infectious diseases fellow with Seattle Children's and the University of Washington from 2016–2019. He is currently using advanced imaging approaches to study spatially-resolved immune responses to Mycobacterium tuberculosis. Outside of the lab, he enjoys hiking, biking and paddling around the Pacific Northwest.
Anuradha Kumar, PhD
Scientific Project Manager I
Katie Lien, PhD
Fellow
Katie Lien received her PhD in molecular and cell biology from the University of California, Berkeley where she studied virulence effectors that are important for M. tuberculosis survival in the host macrophage. She joined the Urdahl Lab as a post-doctoral fellow in July 2019 and is interested in researching early determinants of infection and the adaptive immune response to M. tuberculosis. She is excited to be amongst the mountains, rain, and Tim's potato chips.
Karolina Maciag, PhD
Fellow
Courtney Plumlee, PhD
Research Scientist IV
Dr. Courtney Plumlee received her PhD in biological sciences from Columbia University in 2010, and then completed postdoctoral research at the University of Connecticut Health Center in the Department of Immunology. Her research focused on CD8 T-cell differentiation and memory formation following infection. Plumlee joined the Center for Global Infectious Disease Research as a staff scientist in August of 2014 and is excited to study the functional capacity and genetic regulation of T cells during TB. A Seattle native, she is thrilled to be back on the left coast and close to her family.
Elya Shamskhou
Graduate Research Student
Shawna Stonum
Administrative Assistant Sr., Research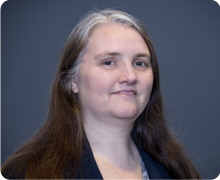 Shawna Stonum began supporting labs at 307 Westlake in December 2017. She has supported staff in both the non-profit and for-profit sectors in a variety of industries, including social services, health care, finance and now life sciences. Her favorite groups of people are those who use their skills to benefit the greater good. She derives great satisfaction in being an integral part of the puzzle that works to potentially save lives and improve the quality of living those lives.