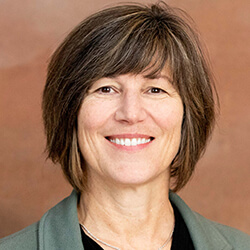 Elizabeth Lawlor, MD, PhD
Dr. Elizabeth Lawlor completed her MD at McMaster University and her clinical training in pediatric hematology-oncology and bone marrow transplantation at BC Children's Hospital in Vancouver, Canada. Her passion to discover new cures for childhood cancer led her back to school, where she completed her PhD in pathology and laboratory medicine at the University of British Columbia. She then moved to the University of California, San Francisco to finish her post-doctoral training and then began her career as an independent investigator in 2004 at Children's Hospital Los Angeles and the University of Southern California. In 2010, Lawlor moved to the University of Michigan, where her lab continued to focus its research on basic and translational studies of pediatric solid tumors, in particular Ewing sarcoma. While at Michigan, she also dedicated her energies to a second passion – graduate and post-graduate education – serving as director of the Cancer Biology PhD graduate and T32 training programs and as associate director of education and training at the Rogel Cancer Center.
Lawlor joined Seattle Children's and the Ben Towne Center for Childhood Cancer Research in June 2020 and currently serves as associate director for the center. She is also a professor of Pediatrics at the University of Washington and adjunct professor in the Department of Laboratory Medicine and Pathology. The overall goal of her research is to discover and define differences between normal developmental and sarcoma biology that will enable discovery of targeted therapeutics that are less toxic to growing children.
Lawlor's lab has been continuously funded by grants from the National Institutes of Health/National Cancer Institute, American Association for Cancer Research/Stand Up to Cancer, Alex's Lemonade Stand Foundation, St. Baldrick's Foundation, the V Foundation, as well as numerous smaller funding agencies. As a dual-trained MD and PhD physician-scientist, she is committed to educating the next generation of cancer researchers and to creating a diverse pipeline of physicians and scientists who will lead us to a better tomorrow for children who are diagnosed with cancer.
Katherine (Kate) Braun, PhD

Research Scientist

Nicolas Garcia, MS

Research Scientist