Research and Scholarship
Publication Q&A: Donor perspectives on informed consent and use of biospecimens for brain organoid research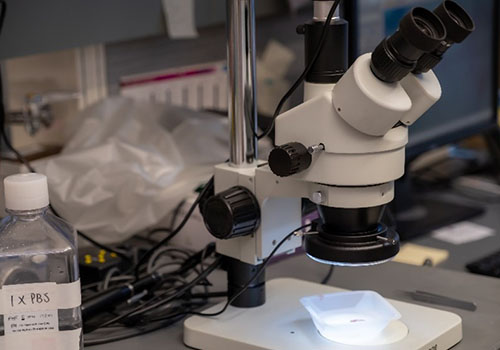 June 22, 2023 – An interview study led by Dr. Kate MacDuffie at the Treuman Katz Center for Pediatric Bioethics shares the first published data collected from biospecimen donors who participated in brain organoid research.
This publication reveals that individuals who donated biospecimens for brain organoid research on neurodevelopmental or neurodegenerative conditions are not only supportive of the research, but also expressed a desire to be kept updated and involved in the research moving forward. This is the first published account of input from biospecimen donors on the ethics of neuroscience research with brain organoids.
Read the full publication on Stem Cell Reports.
What are the significant findings in this paper?
Brain organoids are lab grown tissues that contain several types of nerve cells and have features that mimic regions of the cortex observed in human brains. The use of organoids provides researchers a deeper look at how organs — in this case the brain — grow and develop better than conventional cell cultures.
Discussions around the ethics of brain organoid testing and use have been largely debated within the bioethics community. However, this newest research sheds a new light on donor perspectives when giving informed consent to participate in brain organoid research.
Individuals who donated biospecimens for brain organoid research were generally comfortable with providing consent for a broad range of future research with brain organoids, provided that the research was to advance human health.
Donors also expressed a strong desire for ongoing engagement with brain organoid research teams for three reasons:
To learn the results of the research, including regular updates on how the research is progressing
To allow transfer of decision-making authority over time, like to a donor child when they turn 18
To ensure ethical boundaries are not crossed in future work with brain organoids created from their cells
What does this research tell us that we didn't know before?
Debates about the ethics of human brain organoids have proceeded without the input of individuals who have provided biospecimens. Policy reviews have highlighted the need to understand the perspectives of human donors who contribute cells for brain organoid research. This paper answers that call with the first data collected on the perspectives on brain organoid research.
What are the broad implications of this research?
Brain organoids hold great clinical potential for modeling developmental and disease processes and accelerating the discovery of new treatments. However, efforts to synthesize human brain tissue raise unique ethical concerns given the brain's central role in conscious experience and personal identity.
Therefore, it is critical to continue to explore perspectives of biospecimen donors as a key partner group in policy debates surrounding how to regulate and govern brain organoid research in the coming years and decades.
What are the next steps and long-term goals for this research?
The overarching goal of this research is to ensure that brain organoid research can proceed in alignment with the values of donors — the people who make the research possible by donating biospecimens and sharing their clinical information with research teams. This paper highlights some of the key findings from interviews we have conducted with biospecimen donors.
The next step is to interview brain organoid research teams to gain a better understanding of their processes and procedures for engaging donors, and then propose solutions to bring research practices and donor preferences into closer alignment.
Any other specific information should we know about this paper?
Conducting this study was an extremely collaborative effort. We partnered with researchers at University of Washington — specifically, Drs. Dan Doherty, Suman Jayadev, Annette Estes and Stephen Dager, as well as research teams at the University of North Carolina at Chapel Hill and Washington University in St Louis.
Seattle Children's contributing authors:
Kate MacDuffie
Benjamin Wilfond