Welcome to the Bogetz Lab!
Our focus is on improving serious illness care for children and their families. Specifically, our work centers on children with complex chronic conditions, including children with severe neurologic impairment. Children with severe neurologic impairment have a wide variety of central nervous system conditions that impact their cognitive and physical function and that often result in chronic technology use and complex medical needs.
From families, we have learned about the extraordinary caregiving responsibilities as well as the joys and meaning-making associated with being a parent of a child with special needs. We also have learned about some of the challenges parents experience in the healthcare setting such as the advocacy and vigilance required to ensure their child receives the best care possible.
Additionally, we have learned about opportunities to enhance the ways in which children with severe neurologic impairment and their parents are heard and understood by clinicians. Our research focuses on addressing these issues and ways to bolster the care experiences of children with severe neurologic impairment, their families, and their clinicians. We do this by developing interventions to support high quality communication and family-centered care.
---
Investigator Biography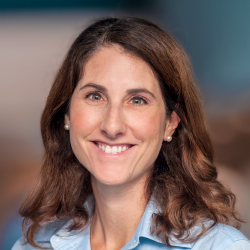 Jori Felice Bogetz, MD
Dr. Bogetz is an Assistant Professor in the Division of Bioethics and Palliative Care in the Department of Pediatrics at the University of Washington School of Medicine and an attending physician in pediatric palliative care at Seattle Children's Hospital. She is the director of pediatric palliative care quality at the University of Washington Cambia Palliative Care Center of Excellence. She is also the co-chair of the APA Complex Care and Disability Palliative Care Affinity Group. Her research is situated both within the Treuman Katz Center for Pediatric Bioethics and the Palliative Care and Resilience Research Lab at the Center for Clinical and Translational Research at Seattle Children's Research Institute. Dr. Bogetz completed her medical school training at the University of California Los Angeles, her pediatric residency training and Academic General Pediatric Fellowship at Stanford University/Lucile Packard Children's Hospital, and a Pediatric Hospice and Palliative Medicine Fellowship at Harvard University/Boston Children's Hospital.
---
Funding
We are very grateful to our funders and those who support our research. Our current projects within the Bogetz Lab include:
Cambia Health Foundation

$1,200,000 total/20% Effort
9/1/20–08/31/23
Implementing and Disseminating Quality Metrics and Educational Programs for Primary and Specialty Pediatric Palliative Care
Role: Co-PI

National Palliative Care Research Center

$197,558 total
07/01/21–06/30/23
A Photo-Narrative Intervention Among Parents of Children with Severe Neurological Impairment
Grant aims to refine and pilot the novel "What Is Important to Us" photo-narrative intervention that facilitates parent-centered communication about the child's health and the parent's strengths.
Role: PI

Seattle Children's Research Integration Hub

$9,860 total
11/15/21–11/14/2022
Exploring the Feasibility, Validity, and Reliability of the Collection of End-of-Life Quality Measure Data in Children with Serious Illness
Role: PI

University of Alabama at Birmingham/American Cancer Society

$24,3963 total
07/01/22-06/01/26
Quality of End-of-Life Care for Children with Cancer: Can we Measure it?
This grant aims to examine the quality of end of life (EOL) care received by children with cancer and identify disparities.
Role: Cite PI

National Insitutes of Health
Eunice Kennedy Shriver National Institute of Child Health & Human Development

$796,684 total
6/21/2022-6/20/2026
A Novel Photo-Narrative Communication Intervention Among Parents of Children with Severe Neurological Impairment in the ICU
This grant aims to develop a communication intervention that bolsters parents' ability to share their perspectives, needs, and values with clinicians in the ICU
Role: PI
Highlighted Publications
Bogetz JF, Bogetz AL, Bergman D, Turner T, Blankenburg R, Ballantine A. Challenges and potential solutions to educating learners about pediatric complex care. Acad Pediatr. 2014 Nov-Dec; 14(6):603-9. PMID: 25132324.
Bogetz J, Trowbridge A, Kingsley J, et al. Stuck Moments and Silver-Linings: The Spectrum of Adaptation Among Non-Bereaved and Bereaved Parents of Adolescents and Young Adults With Advanced Cancer [published online ahead of print, 2021 Mar 26]. J Pain Symptom Manage. 2021;S0885-3924(21)00269-4. doi:10.1016/j.jpainsymman.2021.03.015.
Bogetz JF, Revette A, DeCourcey DD. Clinical Care Strategies That Support Parents of Children With Complex Chronic Conditions [published online ahead of print, 2021 Apr 5]. Pediatr Crit Care Med. 2021;10.1097/PCC.0000000000002726. doi:10.1097/PCC.0000000000002726. Pediatr Crit Care Med Editor's Choice Award July 2021.
Bogetz JF, Trowbridge A, Lewis H, et al. Parents Are the Experts: A Qualitative Study of the Experiences of Parents of Children with Severe Neurological Impairment During Decision-Making [published online ahead of print, 2021 Jun 17]. J Pain Symptom Manage. 2021;S0885-3924(21)00387-0.
Bogetz JF, Trowbridge A, Lewis H, Jonas D, Hauer J, Rosenberg AR. Forming Clinician-Parent Therapeutic Alliance for Children With Severe Neurologic Impairment [published online ahead of print, 2022 Feb 10]. Hosp Pediatr. 2022;e2021006316. doi:10.1542/hpeds.2021-006316
View a full list of Dr. Bogetz's publications on MyBibliography.
Participate in Research
Help us answer questions about childhood health and illness and help other children in the future. Learn more.
Contact Us
Physical Address
1900 Ninth Ave.
Seattle, WA 98101
Mailing Address
M/S JMB-6
PO Box 5371
Seattle, WA 98145-5005