Residency Training Program
Unique Program Aspects
In addition to the core training experiences offered by our program, there are unique training opportunities which are not only educational but incredibly special for the residents who participate.
Diversity Committee (DComm)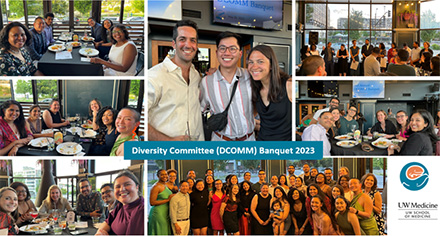 The Diversity Committee at the University of Washington/Seattle Children's supports residents, patients and families, actualizing themes of dignity and respect through daily interactions, programmatic events and curriculum development. In creating a diverse and inclusive community, we can better empathize with our patients and families, and serve as stronger child advocates. DComm is open to all members of the UW Pediatrics residency. Members of DComm are actively involved in recruitment, advocacy, education, outreach, mentorship and community building.
Residency Committee (ResComm)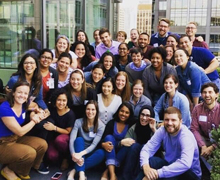 This is a group of residents and faculty who work together to find ways to improve our residency curriculum and training program. Representatives from each class are nominated by their peers to participate in monthly committee meetings. Each year, the committee chooses major topics to address that have been raised by residents and faculty. Many of the changes and innovations our residency has implemented have originated from ResComm. Committee members serve as the voice of their residency class and are always looking for ways to optimize educational opportunities and experiences for residents.
Wellness Committee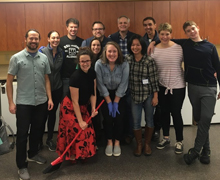 Wellness Committee is a group of residents paired with executive residents (previously known as chief residents) and faculty members working together to spearhead wellness initiatives tailored to the residency program each year. This includes weekly intern support groups led by a dedicated social worker, senior support groups, grief debriefs for deceased patients, ethics conferences during reserved teaching slots and after-hours ethics or medical humanities "fireside chats." The Wellness Committee also champions resident appreciation activities, in which residents celebrate each other in various ways including shout-outs from co-residents, recharge events, evening activities and group service opportunities!
AAP Washington Chapter Representation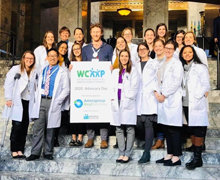 The American Academy of Pediatrics is the main advocacy organization for pediatricians in the county. Four representatives from every class (three from categorical and one from the Alaska Track) are chosen by their peers each year to participate in local, regional and national AAP advocacy work. Second-year representatives are involved in organizing a resident advocacy campaign as selected by the Section on Medical Students, Residents and Fellowship Trainees at each year's AAP National Conference. Throughout residency, representatives serve as experts on Washington state legislative issues and lead advocacy efforts within our residency program. Efforts culminate during an Advocacy Day in February where residents partner with faculty AAP members and speak to state legislators directly.
Professional Development Block
All R2s (who are not in a REACH pathway or the Alaska, Genetics or Health Equity tracks) have a rotation called Personal/Professional Development, which is an opportunity to take time to work on personal and professional goals and build mentorship. This is a personalized rotation, and residents choose to spend time working on research, advocacy, meeting with potential mentors or advisors, shadowing in fields of potential interest, mapping career goals and spending time on personal wellness. At the end of the month residents give an informal presentation to the graduate medical education office to share their process, highlight their pursuits and receive mentoring support.
Resident-Driven Curricula
We have several curricula, many of which stemmed from resident passions, which offer residents education on topics outside of clinical medicine. These curricula include: RATL (Residents as Teachers and Leaders), INCLUDE (INclusion, Cultural humiLity, Diversity, Equity) and Advocacy. These curricula offer morning reports; noon conferences and small group teaching sessions on various topics; events outside of the hospital with leaders in these fields; and resident committees that shape important changes and promote resident research. In addition, the INCLUDE curriculum provides formal equity, diversity and inclusion training sessions for all residents.
Quality Improvement and Teaching
On the associate executive resident (AER) elective, residents can deepen their teaching, leadership and QI skills by working with the executive residents on resident and medical student education, hospital quality improvement and resident support. Our residency has a formal Residents as Teachers and Leaders (RATL) curriculum woven through all three years, including several teaching conferences with didactic education.
For those who want to further sharpen their educational skills, the Teach elective is an excellent adjunct. Residents can learn about ways to become effective teachers and mentors by developing chalk talks for medical students; leading noon conferences and morning reports; and doing peer-to-peer observations and offering constructive feedback.
Stamm Camp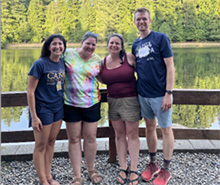 Each August, Stanley Stamm Summer Camp gives children with serious illnesses the chance to go fishing, ride horses and take part in other activities typical of summer camp at a week-long sleepover camp near Mt. Rainier. Our camp, founded by Seattle Children's first pediatric cardiologist, Dr. Stanley Stamm, includes medical support so that children who are unable to attend other camps can join in the fun. Residents are invited, and encouraged, to attend as camp counselors and volunteers, and many return year after year.