Residency Training Program
REACH Pathway
Our mission is to provide training that will equip pediatric residents with the relevant knowledge and experience to work towards reducing health disparities among children in any setting.
Curricular Goals
Prepare residents for future careers as advocates for child health.
Understand the social, economic, environmental and political influences on child health and health disparities.
Catalyze interaction between residents and community groups, public and global health leaders, policy makers and child advocates.
Provide a structure for residents to maintain their passion for partnering families and communities to reduce health disparities.
How We Do This
Knowledge building and individual skill development
Community partnerships
Personal and professional development
Mentorship
Pathway Structure
Residents apply for the REACH Pathway during their intern year and complete four months of the dedicated curriculum during their R2 and R3 years. The R3 months diverge into either a focus in community health in Toppenish, Washington, or global community health in Kisii, Kenya.
Our Pathways
The REACH Pathway provides experiences in integrating public health, community partnerships and advocacy in addressing child health needs. The goal is to understand and influence determinants of child health and health disparities at the community level.
In the R2 year, all REACH residents participate in a month-long curriculum with REACH residents from the University of Nairobi (described below), learning about the social determinants of health; health policy; structural inequities; racism and bias; cultural humility; trauma-informed care; practical advocacy; and strategies for developing, evaluating, and sustaining interventions to improve child health in the community. They are matched with a faculty mentor during this month who will continue to provide mentorship throughout their REACH experiences.
During the second R2 month, residents partner with the Washington State Department of Health to join an ongoing community health initiative and practice public health skills. In the R3 year, the REACH pathway diverges to REACH–Toppenish and REACH–Kisii.
REACH–Seattle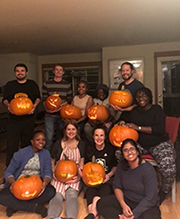 REACH resident partners from the University of Nairobi (UofN) join our REACH residents during their R2 year to participate in their month-long curriculum, described above.
The UofN residents spend five weeks in Seattle as part of the REACH–Seattle Pathway which provides them a unique opportunity to gain training in public health, advocacy, clinical service, and research. They also bring invaluable insight and perspective from their country, culture, and health system. Many of these same residents will have participated in the REACH–Kisii rotation alongside a UW resident partner.
REACH–Toppenish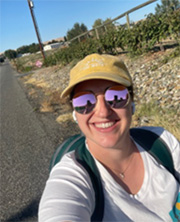 Dr. Blair Stiers, walking home after work through Yakima Valley vineyards.
In the R3 year, each REACH–Toppenish resident spends eight weeks in Toppenish, Washington, to learn from and about the community and its health and healthcare needs. With just half a day per week working clinically at the Yakima Valley Farm Workers Clinic, the remainder of residents' time is available to work with community organizations serving the children and youth of the Lower Yakima Valley. Residents partner with local community members, the REACH–Toppenish program coordinator, and the Community Advisory Board to design relevant and impactful projects. Each resident's activities evolve in response to community needs and residents' unique learning goals and strengths. Residents are encouraged to explore experiences that expose them to role models and career options in community pediatrics and advocacy.
Some projects have included:
Understanding child health from the parent's perspective through surveys and focus groups and applying social network analysis to community needs
Conducting a needs assessment on access to adolescent services and adolescent medical home
Developing afterschool programs and mentorship for local youth
Supporting expectant parents with group support and resources through "baby showers"
Expanding hands-on training opportunities for local youth interested in healthcare careers
Leading high school students in developing educational videos for peers
Partnering with high school teachers and staff to develop and teach health curricula, and "Ask the Doc" sessions in classroomss
REACH–Kisii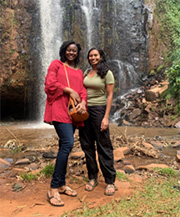 Drs. Nella Clemens-Kangbai and Sruti Pisharody chase waterfalls in lush Kisii, Kenya.
The REACH–Kisii Pathway is an opportunity for residents interested in global health to achieve more training in public health, child health advocacy, and community partnership and empowerment within an equity-focused, long-term global health partnership. In the R3 year REACH–Kisii Pathway residents participate in an eight-week experiential learning program in Kenya. Residents partner with a UofN resident and learn first-hand about pediatric health services through clinical experiences at a 40-bed pediatric ward of a provincial hospital in rural Kisii, Kenya. The bulk of their time, however, is spent conducting community-based child health assessments and interventions working with the Kisii public health network that is headquartered at Kisii Teaching and Referral Hospital. The residents work directly with the community on child health priorities identified by the community, such as childhood malnutrition, adverse childhood events and the role of traditional healers. Pediatric faculty from both Seattle Children's Hospital and the UofN mentor the residents during their community work. Residents are encouraged to develop and meet individual learning goals while they interact with role models and broaden their career options in global health.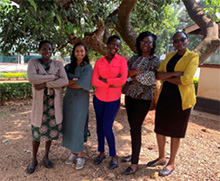 The REACH–Kisii program is unique in that our Seattle residents are paired with pediatric residents from the University of Nairobi for their time in Kisii. The pairs live and work together for the entire experience. The goal is to look upstream at the determinants of child health in Kenyan communities. This pairing allows for support and sharing of expertise between residents and promotes a more in-depth understanding of Kenyan culture and medical training. With each resident pairing, the program makes further inroads into building a sustainable partnership with the larger Kisii community.
Our Partners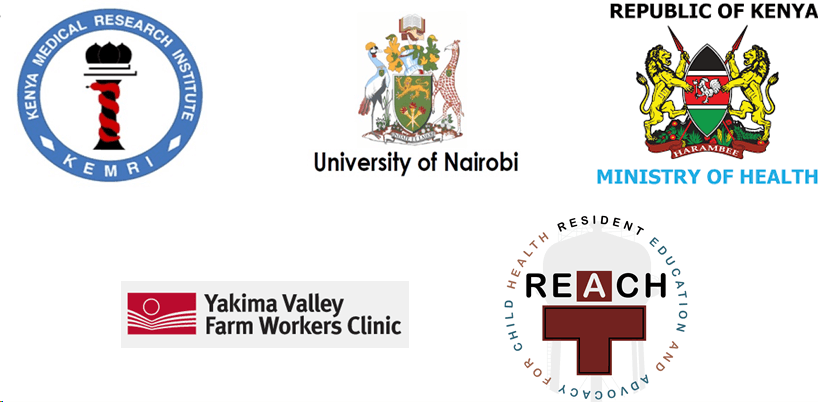 Our partners include the Kenya Medical Research Institute (KEMRI), the University of Nairobi, the Republic of Kenya Ministry of Health, and the Yakima Valley Farm Workers Clinic.
REACH Faculty and Staff