Residency Training Program
Continuity Clinics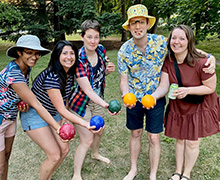 The continuity clinic experience offers residents the opportunity to provide longitudinal care to children throughout their three years of training. Our community clinics give residents the ability to cultivate relationships within the diverse communities of Seattle.
In addition to regularly scheduled clinic time throughout the year, R1s will spend a four week block rotation focused on community pediatrics based at their clinic site. This allows R1s to develop a greater understanding of the clinic as well as grow the patient panel they will follow throughout residency. This rotation also allows R1s the opportunity to experience a multitude of community based services relevant for caring for the families in the context of their communities.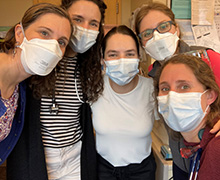 The clinic sites are as varied as our residents' interests, with each offering unique opportunities and perspectives. We believe you will find a continuity clinic site to nurture whatever your unique interests and goals may be as a pediatrician.
In addition to the sites listed below, some residents have their continuity clinic experience with private practice pediatricians and smaller public health or community health clinics throughout the greater Seattle area.
For all sites, a system-wide case-based continuity clinic curriculum is available for weekly teaching by clinic preceptors, presented as Topic of the Week. These cases, along with handouts and reference articles, are cataloged on our password-protected residency website for reference.
University of Washington Medical Center – Roosevelt Pediatric Care Center
University District, Seattle (~12-13 residents per class)
The Pediatric Care Center (PCC) at the University of Washington Medical Center (UWMC) – Roosevelt is the largest continuity clinic site. PCC is located two miles from Seattle Children's Hospital and one mile from UWMC. The PCC serves newborns to 21 year olds in a building that also hosts General Internal Medicine, Women's Health Care, laboratory, and radiology services. PCC draws a broad diversity of patients from a large geographic area. Special clinic features include an Adoption Medicine clinic, behavioral health including a weekly Psychiatry clinic, and faculty expertise in fetal alcohol syndrome.
PCC serves as a medical home to patients from a varied socio-economic spectrum ranging from high-risk, low-income families to children of university graduate students, faculty, and staff. About one-half of a resident's panel is low-income families and about 15% of visits require an interpreter. Patients are commonly recruited from the newborn nursery at UWMC, giving residents a chance to develop a relationship with families starting at birth. Many children and adolescents with chronic conditions who are served at PCC also receive specialty care at Seattle Children's Hospital. About 1/3 of our patients are considered children with special health care needs.
Preceptors are UW faculty in General Pediatrics dedicated to providing comprehensive care to patients and families. In working with residents, strong emphasis is placed on practical knowledge about common pediatric conditions, patient-physician communication skills and developmental-behavioral pediatrics. Continuity with a faculty provider, medical assistant and patients is a top priority. The clinic also serves as a site for medical student training.
Julie Bledsoe, MD, PCC Medical Director
Harborview Medical Center (HMC) Pediatric Clinic
First Hill, Seattle (~4 residents per class)
Harborview Medical Center is a 400-bed public hospital owned by King County and managed by the University of Washington. In addition to its role as the region's only burn and trauma center for children, HMC maintains an active, comprehensive outpatient primary care clinic. Patients come from among the most vulnerable populations in Seattle including low-income, immigrant/refugee, non-English speaking, and families facing homelessness. Over half of visits are interpreted using either telephonic or in-person interpreting. The largest ethnic groups represented are Somali, Hispanic, Ethiopian (Amharic/Oromo), Vietnamese, and Cambodian. In addition to allowing cross-cultural healthcare encounters, the population served also has higher medical needs such as anemia, asthma, failure to thrive and developmental delay. Given the diversity of patients, this clinic is very well-suited for those interested in global health as part of their careers.
HMC has many resources to help care for children's medical and psychosocial needs, including social workers, mental health providers, dietitians, interpreters and community outreach programs. Opportunities to work with children in community settings are also provided, such as through home visits and after school programs. Many mothers of patients at HMC receive their OB care next door at the Women's Clinic and deliver at the UW Medical Center Newborn Nursery, with opportunities to recruit patients in both places. Special features of the clinic include offering a Foster Care clinic and a Traumatic Brain Injury clinic.
Preceptors for continuity clinic at HMC are UW faculty in the Division of General Pediatrics, and all engage in research and/or advocacy efforts to improve safety and health in the community. In addition to being a pediatric continuity clinic site, HMC pediatric clinic serves as a training site for medical students, pediatric psychiatry fellows, and clinical psychology residents.
Anisa Ibrahim, MD, Clinic Medical Director
Brian D. Johnston, MD, MPH, HMC Chief of Pediatrics
UW Neighborhood Kent/Des Moines Clinic (KDM)
South King County (~9 residents per class)
This continuity clinic site is located in one of the fastest growing and most diverse areas of our region in south King County. Residents care for an underserved patient population with socioeconomic and cultural diversity, as well as a significant number of medically complex patients who receive specialty care at Seattle Children's. Residents interact with five UW faculty precepting pediatricians, all of whom also have their own patient panels and have developed expertise in primary care.
KDM is a fully integrated neighborhood clinic, and residents often have a full schedule and develop continuity quickly. This is an excellent setting for residents to receive experience in primary care, as it combines a typical community pediatric office pace with comprehensive resources.
The residents and preceptors benefit from a level 3 medical home model, with a team-based, modern approach to primary care. KDM pediatricians work with a social worker, health navigator, nutritionist, and on-site laboratory and radiology services. Special features include an active behavioral health program, which includes pediatric psychiatrists and cognitive behavioral therapy on site.
KDM is in one of the most diverse areas of King County near Seattle Children's South Clinic in Federal Way, which offers a close connection to Seattle Children's sports medicine and other specialties. The clinic also has family medicine providers, providing access to unique opportunities, such as assisting on procedures, including IUD/Nexplanon placement and circumcision.
Residents particularly appreciate KDM's clinical capacity, support services, and team-based office setting, in which the residents, preceptors and medical assistants are all together in the same pod, fostering better communication and camaraderie.
Nicole Johnson, MD, KDM Continuity Clinic Director
Neighborcare – Columbia City
South Seattle (~4 residents per class)
The continuity clinic at Neighborcare – Columbia Clinic has provided primary care to families in the Columbia City area of Seattle for over 30 years. This clinic opened as a public health clinic in response to health care needs of vulnerable families including many immigrants and refugees. Neighborcare, a successful Federal Qualified Health Care (FQHC) community clinic network, assumed leadership of the clinic in 2014. The children seen at Columbia are diverse, low-income, mostly East African, Southeast Asian, or Hispanic immigrant families and include medically and socially complex patients.
The practice has many advantages of on-site services: social work, interpreter services, pediatric RN case management, nutritionists, and integrated behavioral health services. In addition, special features include public health services on site including public health nursing, WIC, and a dental clinic. Immediately adjacent is a Neighborcare family medicine clinic and OB practice. The clinic serves whole families and there is an emphasis on collaboration between the different programs and disciplines.
Pediatricians jointly hired by UW and Neighborcare with experience and passion for community-based practice precept and ensure continuity for residents' panels when they are not in clinic. There is also an experienced pediatric nurse practitioner who sees patients there. This clinic represents an opportunity to work in an integrated pediatric practice model in a community-based Federally Qualified Health Center.
Heather Henne, MD, Columbia Continuity Clinic Director
Odessa Brown Children's Clinic (OBCC)
Rainier Valley, Seattle (3-4 residents per class)
Odessa Brown Children's Clinic (OBCC) is a community clinic of Seattle Children's Hospital providing medical, dental and child behavioral health services to children and adolescents. Staffed with pediatricians and nurse practitioners, OBCC is located in Seattle's Rainier Valley.
Special features include an Asthma Clinic, ADHD Clinic, Fit4You (an obesity prevention and management program) and a Sickle Cell clinic, staffed by hematologists from Seattle Children's, held on site the second and fourth Thursday of every month. OBCC also runs the Teen Health Center at Garfield High School as well as medical services at First Place School, an elementary school for homeless youth, and Wellspring, a daycare for low income and homeless families in the neighborhood.
OBCC serves as a training site for third-year medical students, pediatric nurse practitioners and medical assistants. Five experienced pediatricians at OBCC serve as continuity clinic attendings.
Shaquita Bell, MD, OBCC Continuity Clinic Director
Sea Mar Community Health Centers
South Park , Seattle (2 residents per class)
Sea Mar is a busy community-based clinic serving low-income Spanish-speaking families living in the south end of Seattle and King County. It is part of a larger organization comprising several types of health services. Pediatric patients and their families benefit from Sea Mar's behavioral health department, Head Start program, WIC program, maternity support services, dental clinic, pharmacy and child development center. Sea Mar has onsite lab and radiology. In-clinic professionals include a social worker, health educator, patient navigator and chronic care coordinators. This is a true community health center and pediatric residents work alongside family practice physicians and residents as well as OB/GYNs. All medical assistants and support staff are bilingual/bicultural.
About 90% of patient visits are conducted in Spanish, and Spanish proficiency is a requisite skill for continuity clinic residents. Appointments include those for children requiring preventive health maintenance and illness follow-up visits, and for children with acute illnesses or chronic medical conditions. There are two pediatricians who precept residents and maintain patient panels. In serving their own pediatric patient panel, residents form long-term relationships with families while learning about their communities and cultures.
Cor Van Niel, MD, Sea Mar Continuity Clinic Preceptor
Eastgate Public Health Center
Bellevue (Eastside) (1 resident per class)
The Eastgate Public Health Center is the only designated public health clinic available for resident continuity clinic. The clinic is housed within a full spectrum facility offering primary care, a teen clinic, nutrition, WIC, dental, maternal support services, environmental health services, family planning and STD services. The center is part of the King County Health Centers Network and primarily serves the low-income population in Bellevue and surrounding the East King County communities of Issaquah, Woodinville, Kirkland, Renton and Kent.
The clinic sees a diverse range of Medicaid patients, and there is a sizable group of children with special health care needs. A majority of the families are Spanish-speaking immigrants. This site is unique because there is only one pediatric resident assigned to the clinic every three years. The faculty preceptors include a very experienced pediatrician with fellowship training in general pediatrics, expertise in lactation, and experience in global health, and a second newer faculty with extensive experience in state and local advocacy. This site is a great site for residents interested in immigrant health, and fluency in Spanish is a prerequisite.
Crystal Shen, MD MPH, Faculty Preceptor