Services We Provide
Mood and Anxiety Program
What is the Mood and Anxiety Program?
The Mood and Anxiety Program is a specialty program within Psychiatry and Behavioral Medicine for children and adolescents age 5 to 17 who have:
Anxiety

Bipolar disorder

Depression

Gender concerns
Hair pulling (

trichotillomania

)

Psychotic disorders

Selective mutism

Skin picking (

excoriation disorder

)

Tourette syndrome

or a tic disorder
We perform a thorough evaluation to understand your child's concerns and then work closely with you to provide short-term, evidence-based care.
We do not treat these conditions
How will the Mood and Anxiety Program meet my needs?
Seattle Children's Mood and Anxiety Program providers assess and treat anxiety, bipolar disorder, depression and many other emotional and behavioral concerns in children and teens.
Thorough evaluation to understand your whole child

To get a complete picture, we talk with you and your child about symptoms, challenges, strengths and goals. We recommend that all parents or primary caregivers take part in the evaluation. Usually, an evaluation takes two or more visits. Before the first visit, parents fill out a family information form online, and teens and parents fill out questionnaires about behavior. As part of the evaluation, we review your child's medical, school and other records.

Feedback session to share results and recommendations

A feedback session brings together your expertise in your child and our expertise in anxiety and mood disorders. We share our understanding and work with you to recommend evidence-based treatment options. This might include referrals for care at Seattle Children's and in the community.

Brief, evidence-based care tailored to your child and family

Depending on your child's needs, treatment may involve one or more of these options:

Child and teen groups at Seattle Children's to teach skills for coping with emotions and behavior
Parent groups to teach you ways to support and coach your child
Short-term individual therapy for your child
Involving you in your child's ongoing treatment
Medicine for your child's condition or adjusting your child's current medicine
Referrals to community resources

All children and teens seen in the Mood and Anxiety Program take part in an online system to track their progress in treatment.
We do not offer these services
Long-term individual therapy or long-term medicine management.
In-home therapy. Many community mental health centers provide this service.
Parenting evaluations for legal purposes, such as developing parenting plans. Visit the Parenting Evaluation Treatment Program (PETP) Graduates webpage for a list of trained providers in the community.
School evaluations after suspension or expulsion. Contact your child's school for a list of providers who do "return to school" evaluations.
Specialized Treatments and Services
We offer these specialized treatments and services for children and teens with specific concerns.
Depressive disorders treatment

We evaluate and treat children and teens with depression when our providers have therapy openings. There is strong evidence from research for individual cognitive-behavioral therapy as the first treatment approach for children and teens with depression. Soon after starting therapy, some children and teens with depression may see one of our providers who can evaluate whether medicine may help.

Collaborative Assessment and Management of Suicidality (CAMS)

CAMS is a treatment for children and teens who have thoughts or plans of suicide (suicidal ideation). In CAMS, the therapist and child work together closely to understand and reduce the child's suicide risk. CAMS is a brief, focused treatment. Usually, it lasts up to 8 sessions until the child's risk of suicide has decreased significantly. Then we refer the child to a provider in our clinic or in the community for any other treatment they need.

Read more about CAMS (PDF).

Dialectical Behavior Therapy (DBT)

DBT is intensive, outpatient cognitive-behavioral therapy for teens age 13 to 17 who:

Have ongoing trouble regulating emotions and lack effective coping skills
Have had thoughts or plans of suicide (suicidal ideation), made suicide attempts or injured themselves on purpose (called nonsuicidal self-injury), such as by cutting or burning their skin

Priority for the DBT program is given to teens who are already being treated in our outpatient psychiatry clinics.

We follow the gold standard for comprehensive DBT outpatient programs, which means:

Your child's DBT therapist takes part in a DBT consult team that meets weekly.
Your child has individual weekly DBT therapy.
We hold skills groups weekly for teens and their parents.
Between weekly sessions, we provide coaching by phone for teens and parents to help you apply skills during challenging times.

Read more about DBT (PDF).

Treatment for anxiety disorders and obsessive-compulsive disorder (OCD)

The Seattle Children's Anxiety and Obsessive Compulsive Disorder (OCD) Program is a stepped-care program that provides short-term, problem-focused and evidence-based care for anxiety disorders and OCD. Stepped care means that most families start at the lowest level of care and then step up to higher levels of care, depending on how they respond to earlier steps.

Treatment is based on a cognitive behavioral therapy model and focuses primarily on exposure (facing one's fear), which is known to be the most important component of treatment.

The Anxiety and OCD Program's first step of care is our anxiety and OCD weekly group series, which is a 9-week group program. At the end of the group, we hold an individual feedback session with each family to review how group went and determine next steps. Some families find that the group has met their needs, while other families want or need more help for anxiety or OCD.

If your family needs more help for OCD after the group series, we offer short-term individual therapy. It may be that your child needs a higher level of care from our Obsessive-Compulsive Disorder Intensive Outpatient Program. Some families may also discover they need help in a different area, like depression, and we will work with you to get the care your child needs.

Read how Annie faced her fears and conquered her anxiety.

Listen to Maria's story about how treatment at Seattle Children's relieved her child's anxiety.

Tourette syndrome and other tic disorders treatment

We evaluate and treat children and teens with Tourette syndrome and other tic disorders. Our treatment approach is called comprehensive behavioral intervention for tics (CBIT). This approach teaches children how to:

Be aware of their tics.
Use a different response or behavior to decrease the urges to tic over time.
Change the environment in a way that makes tics less likely.

If your child has severe tics or tics with other disorders, they may see one of our providers who can evaluate whether medicine may help.
Who's on the team?
The Mood and Anxiety Program team includes psychiatrists, psychologists, mental health therapists and psychiatric nurse practitioners who work together closely to understand your child's needs and put in place a treatment plan that matches them.
How to Get Services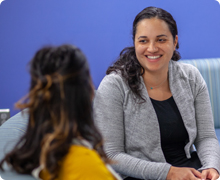 We often have more requests from new patients than we have openings. To make an appointment with the Mood and Anxiety Program, you need a referral from your child's primary care provider. Learn more about how to get mental health services at Seattle Children's.
Once we get a referral from your provider, we will let them know if we have an opening for your child or not.
If you already have an appointment, learn more about how to prepare.
Learn about Psychiatry and Behavioral Medicine resources, such as useful links, videos and recommended reading for you and your family.
Have Insurance Questions?
Some insurance plans have Seattle Children's as an in-network provider for medical services and an out-of-network provider for mental health services.
Even if your plan offers an out-of-network benefit, we are not accepting new patients for our mental health services if their insurance does not include Seattle Children's as an in-network provider.
Learn about mental health insurance coverage at Seattle Children's.
Have Billing Questions?
Seattle Children's bills a facility charge (PDF) for hospital-based clinic visits. Learn more about your bill.
In a crisis?
If you, your child, family or friend needs help right away, call or text 988. Chat is another option. The 988 Suicide & Crisis Lifeline provides free and confidential support for people in distress, as well as prevention and crisis resources. The Lifeline is available 24 hours a day, 7 days a week in the United States.
Hotlines for Youth (PDF) provides other options for immediate help for children and teens. (Also available in Amharic, Arabic, Russian, Simplified Chinese, Somali, Spanish, Ukrainian and Vietnamese.)