Odessa Brown Children's Clinic
Finding Resilience in Community: Free Online Mindfulness Classes for Parents and Caregivers
This culturally relevant mindfulness and compassion program has been created by our team of parent leaders and partners from Seattle Children's Odessa Brown Children's Clinic and the Arc of King County.
We invite you to connect with other parents and learn mindful strategies that promote resilience, problem solving, and culturally responsive relationships. Join our fantastic team of facilitators (all parents) and develop your ability to rise in the face of challenges!
All of our classes are live (Pacific time) through Zoom video conferencing, which includes the option of joining from your phone. If you have questions about using this platform, watch this informative video.
For any questions, call or text Maria Pacheco at 206-833-5967 or email her at maria.pachecob@seattlechildrens.org.
Read about a parent's journey from explosive to mindful.
Drop-In Online Mindfulness Classes
Take the time to calm your mind and learn to cope more effectively with the uncertainty and stress of these challenging times. We are currently offering free virtual classes in English and Spanish to better serve our communities. No registration required.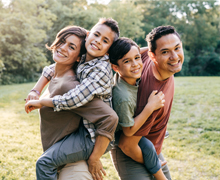 Drop-Ins in English: Wednesdays from 8 to 8:30 p.m. and from 8:30 to 9 p.m. Pacific time.
Via Zoom
Meeting ID: 85295971494
By phone: 346-248-7799
Drop-Ins in English for the Black community: Every second and fourth Sunday of the month, 2:30 to 3:30 p.m. Pacific time. Find more information about our programming for the Black community.
Drop-Ins in Spanish: Thursdays from 6 to 7:30 p.m. Pacific time. Find more information about our programming for the Latinx community.
Six-Week Courses for Specific Communities
Join our growing community of mindful parents at Odessa Brown Children's Clinic and learn to develop new skills that can support you in your parenting journey! We offer free six-week evidence-based mindfulness and self-compassion courses especially adapted for different communities. Registration required. Click on the links below to learn more.
What is mindfulness?
Mindfulness is paying attention to what is happening in this moment in our minds, hearts and bodies without judgment, and holding this awareness with kindness and curiosity. Research has shown that practicing mindfulness helps us become more attuned to ourselves and others, and improve our own sense of well-being.
Our mission: We share community-led mindfulness and compassion practices to promote the well-being of youth, families and communities who are marginalized and build collective capacity to promote social justice.
Our vision:
Share culturally relevant, trauma-sensitive, healing-centered mindfulness and compassion practices to promote the resilience and well-being of children, families and our healthcare team.
Build community capacity to spread mindfulness and compassion practices by partnering with community organizations and integrating families into our programs.
Adapt mindfulness and compassion programs recognizing the intersection of trauma and social conditions in order to promote equity and social justice.
Integrate mindfulness and compassion into the values and actions of OBCC to serve as a central place in our community of safe, trusted, caring support for children and families.
Meet the Mindfulness and Compassion team
Our Team of Facilitators
Lenna Liu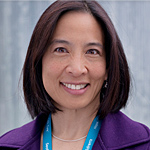 Lenna Liu has been passionate about supporting families in their wellbeing as a pediatrician at Odessa Brown Children's Clinic (OBCC) since 1992. When she faced significant challenges in her own life, she turned to yoga and meditation and vowed to share these transformative, healing practices with her families at OBCC. She is the mom of two adult sons and enjoys writing, partner dancing (especially tango) and the Oregon coast. She still finds wonder in the capacity of our breath, our constant companion through each moment of our life.
Foxy Davison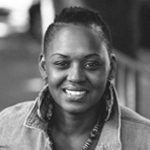 Foxy Davison, daughter of Angela Collins, granddaughter of Barbra Brown, and great-granddaughter of Thelma Delespine, is a momma of three amazing kids and wife of one incredible husband. She is an educator and activist, serving as community coordinator for the Metropolitan Seattle Sickle Cell Task Force and community outreach coordinator for the Progress House Work Release. She helps facilitate mindfulness sessions through Odessa Brown Children's Clinic in the community with other parents.
Dominique Smith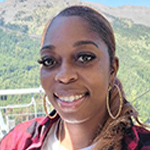 Dominique Smith is a wife, mother of three, educator and mindfulness facilitator. She started her mindfulness journey in 2020 when the pandemic began. "Mindfulness can help to reduce my stress and improve moods. I have learned to practice mindfulness in my daily life as well as my children."
Sarah Bergman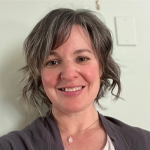 Sarah Bergman Lewis is a pediatrician, parent and mindfulness facilitator. Before pursuing medicine, she was a middle school teacher; she has also completed her yoga teacher training and is currently pursuing embodied social justice certification. She is committed to empowering individuals towards their own self-resourcing in body, heart and mind. Through her own journey, she has found mindfulness to be an accessible but profound way to be held by common humanity and work individually and in community towards generational healing and pursuit of a more loving and just world. She loves showing people that mindfulness is already within them and facilitating their own journey back to experience it.
Krista Hanson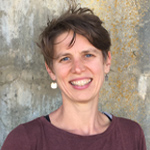 Krista Hanson is a mindfulness and yoga instructor, organizer, writer and parent. Twelve years ago, the birth of her child with intense medical challenges led her to embodied mindfulness as a path toward self-care in community. As a facilitator, she brings her passion for liberation work into her classes, drawing connections between personal and collective healing. Her daily teachers are her two extraordinary and unique children who sometimes show the way through their own grace and resilience… and who sometimes, in their chaos, inadvertently remind her to take a few deep breaths.
Angie Tamayo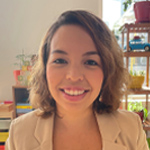 Angie Tamayo Montero is a mental health therapist, plants lover and mommy. During college and through research programs where she worked, she learned about the great impact that mindfulness, or, as we call it in our program, "being present with heart and mind," has in people's lives. She has always been passionate about working with her Latinx community and sharing what she knows with others. For her, it is important that the Latinx community has access to these types of tools and that they feel welcome in these types of spaces. As an immigrant woman of color and mom, practicing being present with heart and mind has helped her navigate difficult situations with compassion and learn to enjoy life's simple moments even more.
Patty González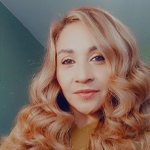 Patty González is the Parent to Parent program coordinator for Spanish-speaking families at the Arc of King County in Seattle. She provides information and support to the families of children and adults with intellectual and developmental disabilities, particularly as they navigate special education and the health care system. She first took mindful self-compassion in 2017 and joined the team of parents and health care professionals at Odessa Brown Children's Clinic with the goal of ensuring the Latino community could access a culturally tailored version of the class in Spanish.
Angélica Zapata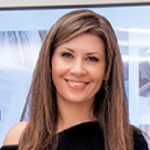 Angélica Zapata is a certified life coach, a marketing professional and an education consultant, specializing in early childhood development. She was trained in mindfulness-based stress reduction (MBSR) and mindfulness-based resilience (REAL-Pro) at the University of Washington, where she also worked leading the adaptation and implementation of mindfulness and compassion programs for community-based organizations and early learning professionals in Seattle. Currently, she leads Ready to Grow, and teaches mindfulness at Green River College.