Mindfulness and Compassion Program
How I Went From Explosive to Mindful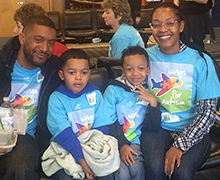 Parent mindfulness teacher Shayla Collins shares how having two children with special healthcare needs led her on a path to overcome her anger through mindfulness.
As I write these words, my apartment is flooding. My two sons are frequent-flyer patients at Seattle Children's Hospital. And I've agreed to participate in more classes, programs and opportunities than I have time for.
But it's okay. I'm mindful now.
This three-word phrase has become a joke in my family, but it's also true. In fact, I call it my mantra.
I say I'm mindful now because that wasn't always the case.
Before I had children, my life was all about me. I was hard on myself, and hard on everyone else. I was explosive.
Don't get me wrong — I have a good heart — but when something wasn't done to my standards and on my timeline, I would get upset and I wouldn't let it go.
Nine years ago, I gave birth to my first son, Israel. He was breech, so I delivered him via C-section. During the birth, doctors suspected something was wrong. When they pulled him out, Israel wasn't breathing, the umbilical cord wrapped around his throat.
After unraveling the cord, my baby boy still wasn't taking in air.
The team eventually got Israel breathing and learned that his vocal cords were paralyzed in the closed position, a condition called bilateral vocal cord paralysis, which has no known cause.
What I learned is that vocal cords are not just used for talking; they're also used for breathing.
Israel had a tracheostomy placed to help him breath when he was 20 days old. He still has the trach today. As a baby, he also had a gastronomy tube to help him get the nutrition he needed to grow.
You can imagine how a person like me — who liked things done my way — felt. I didn't understand why this happened to me. I was angry. But I was also focused on doing what I could for my child.
I gave birth to my second son, Noah, about a year later. Thankfully his birth was uneventful, and as he grew, he met all his milestones — except one. By 2 years old, Noah's doctor was concerned about his lack of speech. Shortly after, Noah was diagnosed with autism spectrum disorder.
We've done everything we can to get Noah to talk: speech therapy, occupational therapy, Applied Behavioral Analysis therapy, even hippotherapy (using horses).
Now 7, Noah is verbal (he talks a lot, just like his mother), but we continue to work on speaking more slowly and articulation, which makes social interactions challenging.
My mindfulness journey
With two children who have lifelong health conditions, I was at the end of my rope. I was searching for anything that could help me get over the anger I was feeling.
I heard about a class at Seattle Children's Autism Center called "Mindful Moms," which was my introduction to mindfulness.
I went into my first class feeling like I was the only one dealing with the difficult life I was dealt. My mantra back then could have been: Woe is me.
But this class made me realize I wasn't alone — and that there is something I can do about how I react to situations.
It was only a six-week class, but afterward I started to feel so much better about my life and my situation.
So I was totally on board when I heard about a Seattle Children's project called Finding Strength for the Long Haul that aimed to teach mindfulness and self-compassion to parents of children with health conditions or disabilities.
The project is unlike anything I've been a part of, because it's both a class and a research project. I started out by participating in a parent focus group to help the Seattle Children's team plan the first pilot class. Then I participated in that pilot, which was a 5-week class facilitated by Yaffa Maritz that included activities from the Mindful Self-Compassion curriculum and a retreat. Afterward I was invited to join the project team to tailor the class even more for parents of kids with special needs by reviewing feedback from the class participants.
I loved that first class! The things we learned really resonated with me. For example, people always say, "Take a deep breath," when you're stressed or angry. That didn't really help until I learned, in this class, how to connect the mind with the physiology of breathing and really feel the difference. It was a game-changer.
One of the most helpful things I learned is how to take a pause. Before I knew about mindfulness and got involved in this project, I would have short spurts of anger and explosiveness. But living that way was not sustainable long-term. I wanted to find a way to be more responsible for my emotions and actions.
The class taught me that it's okay to feel something, but rather than immediately react, I need to give myself time to pause and figure out how — or if — I want to respond.
I started to notice that after each class, as I was more able to control my reactions and bring down my tone, my kids were doing the same. When I responded to them differently, they responded to me differently.
In all these years of living with stress and anger, I never realized how much my emotional state and mental health affected my family. Seeing the changes in myself, and in my kids, was enough to convince me that I needed to change for the long haul — to be mindful, to have self-compassion and to take a pause — and that this class would give me the tools to do it.
I couldn't recommend this course enough to parents like me. I believe in it so much that I became a facilitator myself.
Now that I am a facilitator, I hope the lessons I share resonate with other parents just as much as they did with me.
The old Shayla never would have taken on the opportunity to be part of this project and teach other parents. Without the exposure, I never could have imagined being a part of all the opportunities that have come my way due to mindfulness.
Don't get me wrong — I was terrified to take on facilitation. But everything turned out okay…after all, I'm mindful now.