Mindfulness and Compassion Program
Reflections From a Mom: How to Take it One Breath at a Time
Although Kim Arthur's journey — both professionally and as a mom — has taken unexpected turns over the last seven years, this longtime Seattle Children's employee is finding her way forward by collaborating with other parents to develop mindfulness and compassion programs.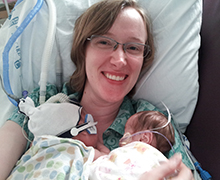 In April 2013, Kim gave birth to identical twin girls, Emilia ("Mili") and Lola. They were born premature at 26 weeks and spent their first five months in a neonatal intensive care unit before being discharged with oxygen and feeding tubes.
In the early years, Kim says the uncertainty about whether her daughters would be able to do the things that most other kids could do was the hardest part, along with adjusting to the fact that some of her dreams as a mom might come true in a different way than she imagined.
"The trick is to find meaning and joy in your new reality," says Kim, a clinical research scientist at Children's. "Some days that feels impossible, but more often than not I can at least enjoy a good cuddle or laugh at something my girls have said."
A dose of self-compassion
For Kim, learning to pay attention to how she is feeling and to have compassion for herself has been a critical part of her journey. She feels that the COVID-19 pandemic has amplified many of her parenting challenges, but shares a few of the strategies she tries to remember.
Acknowledge when things are hard. Kim reminds herself that other parents are struggling with similar challenges and that it's totally normal to feel frustrated or overwhelmed.
Learn to identify the tension in your body and find ways to release it. Kim places her hand on her stomach when she feels stressed and takes a few deep breaths. Although the tension does not disappear, she can feel herself releasing a little of it. She has used this technique in moments as hard as her daughter's open-heart surgery and as mundane as feeling frustrated by the mess in her living room.
Check out some brief recorded meditations in English and Spanish. Parent facilitators, Krista Hanson and Patty González, along with Dr. Lenna Liu from Odessa Brown Children's Clinic have recorded short meditations.
Come up with a phrase that lifts you up when you are struggling. When her girls were younger, Kim would tell herself: "My girls are thriving." It was her way to validate that she was doing her best and her girls were doing well despite her worries.
Find little ways to make your day go better. Now that there are no more rushed school mornings, Kim tells her girls that she is having quiet time while she has a cup of coffee (or two) on the couch before getting them dressed or doing anything else. This can help her have more patience.
Make an effort to savor the positive moments. Kim started a personal blog days after her girls were born to capture the many joyful memories. It can also be as simple as reflecting on something positive from the day every night before bed.
"The traditional definitions of mindfulness talk about the importance of not judging yourself for what you are thinking or feeling in the present moment and being able to let go," says Kim. "For me, it feels more concrete and helpful to think about being kind to yourself and showing up for yourself in the way that a friend would show up for you."
Designing a mindfulness and self-compassion program
Over the last three years, Kim and a team of parents and staff members from Children's — including Seattle Children's Odessa Brown Children's Clinic (OBCC) — have supported other families of children with special healthcare needs or disabilities facing ongoing challenges by offering free, evidence-informed courses on mindfulness and self-compassion. Kim is also leading two qualitative research studies exploring how families use what they learn in the class.
"To me, mindfulness is about opening your heart and mind to what is happening right now," says Kim. "It's about slowing down and recognizing what you're feeling — even the feelings you may not be proud of — and giving yourself some grace."
A new take on mindfulness
Since March 2017, the team has offered four mindfulness courses in English and two in Spanish for parents and caregivers of children with special healthcare needs or disabilities.
The team is deeply committed to supporting the well-being of families and communities confronting injustice, racism, trauma and poverty, which disproportionately affect people of color in South Seattle and South King County.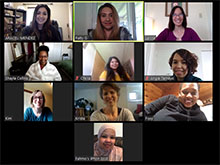 "The mindfulness classes I took before starting this program had participants who were predominantly white and highly privileged," says Kim. "I think it's safe to say that's what most mindfulness classes in the United States look like. To be transparent, that's the privilege I come from myself. But that's not what we wanted our program to look like. We wanted to address the inequity in access to these programs and adapt practices that would be meaningful and culturally relevant, particularly for the African American, Somali and Latinx communities currently represented on our team."
During the COVID-19 pandemic, the team started offering free online mindfulness classes for parents and caregivers in English and Spanish. This spring, they are launching their new curriculum for parents of young children (up to age 5). All of these online classes are open to all parents and caregivers (not just parents and caregivers of children with special healthcare needs). Learn about upcoming web offerings.
Focusing on the positives
Being a parent is hard for anyone. Being the parent of children with special healthcare needs, however, comes with added challenges.
Kim's daughters have undergone several surgeries and had more than 300 clinic visits at Children's over the last seven years. Lola is Deaf and had a cochlear implant placed when she was 1 to restore some hearing. She also had open-heart surgery at age 4 for aortic stenosis.
With the stress involved in learning sign language, implementing feeding protocols and supporting her daughters' development over the years, Kim says she battled feelings of grief, guilt and isolation. She also put her own self-care on the back burner.
A couple years after the girls were born, Kim decided to take two mindfulness courses with the goal of improving her own mental health and the hope of bringing similar courses to Children's if she found them helpful.
"When I first took a mindfulness class and learned about the concept of paying attention to the present moment, I was left with the question of what to do when the present moment is really hard," says Kim.
During the first class, she remembers feeling like a failure because there was no way she could do the recommended 45 minutes of meditation each day. Fortunately, she learned practical tools in the second class to help be kinder to herself in daily life. This is the focus of the classes at Children's.
"My biggest hope is that families can use practices from the class to ease their stress, take the initiative to do things that support their own well-being and savor beautiful moments," she says.