Seattle Children's Level IV NICU offers the highest level of neonatal intensive care in Washington
Seattle Children's was the first hospital in Washington state to be designated a Level IV Neonatal Intensive Care Unit (NICU), the highest designation possible. Equipped to care for the tiniest and most critically ill newborns, Seattle Children's 32-bed Level IV NICU receives patients from nearly all Level III NICUs in Washington and Montana.
What does "levels of care" mean?
The Washington State Department of Health and the American Academy of Pediatrics define four levels of neonatal care:
Level I (well newborn nursery)
Pediatricians, family doctors and advanced practice nurses stabilize and provide care for low-risk newborns who are born as early as 35 weeks' gestation, and are prepared to stabilize sick newborns for transfer to a higher-level NICU.
Level II (special care nursery)
A Level II special care nursery must have the same capabilities as a Level I nursery, and more. Pediatric hospitalists (pediatricians working primarily, or only, in hospitals), neonatologists and neonatal nurse practitioners must be able to care for infants born as early as 32 weeks' gestation; to provide care for infants recovering after intensive care; to provide brief mechanical ventilation or continuous positive airway pressure, or both; and, sometimes, to provide intravenous nutrition for babies not yet able to feed. In Washington, Seattle Children's pediatric hospitalists provide care 24 hours a day, 7 days a week in the Level II special care nurseries at Skagit Valley Hospital and Providence St. Peter Hospital.
Level III (NICU)
A Level III NICU must have all of the Level II capabilities, and more. It must have quick access to a full range of pediatric medical subspecialists, pediatric surgical subspecialists, pediatric anesthesiologists and pediatric ophthalmologists. A Level III NICU must be able to provide sustained life support, sustained respiratory (breathing) support and advanced imaging, with interpretation on an urgent basis. In addition, it must either be able to provide surgery for common complications of prematurity and common birth defects or have an affiliation with a Level IV NICU, such as the NICUs at the University of Washington, Providence Everett, Overlake Medical Center, St. Joseph Medical Center and Kadlec Regional Medical Center have with Seattle Children's NICU.
Level IV (regional NICU)
A Level IV NICU, such as Seattle Children's, must have all of the Level III capabilities, and more. It must be located within a hospital that can provide surgery for complex conditions that are present at birth or that develop soon after delivery. A full range of pediatric medical subspecialists, pediatric surgical subspecialists and pediatric anesthesiologists must be available on-site 24 hours a day, 7 days a week. Level IV NICUs must also facilitate patient transport and provide outreach education to other providers.
More Information
Neonatal Transport Team
Learn more about our transport service and your baby's trip to the NICU (video: 5:10)
In the NICU
Your baby will be cared for by a team of medical and surgical experts. We will work with you to make decisions and treatment plans for your baby.
A NICU nurse and a respiratory therapist will be with your baby during every moment of travel to Seattle Children's Hospital. The transport team is in frequent contact with the neonatologist who arranged the transport.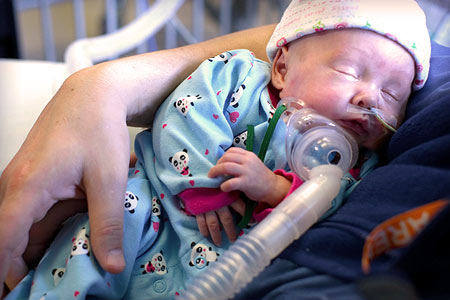 We encourage you to be an active partner in your child's care. We offer a comforting environment for you and your family, including support in healing from childbirth and help in breastfeeding your baby.
Parenting a preemie or a very sick baby is different than parenting a healthy newborn. Talk with your nurse about ways to touch, hold and bond with your baby.
We encourage you to trust your instincts, ask questions and share your concerns. It makes a difference.
At any point, if you have questions or don't understand something, ask your child's nurse, doctor or anyone on your healthcare team.
Every morning, your child's health care team will meet and discuss your child's care. You are invited to participate in these daily conversations called "rounds." We hope you will use this time to share your insights, questions and concerns.
We have parent sleeping rooms in the Family Resource Center. Each room has one twin bed. Showers and laundry are here for your use at no charge.
Caregivers in the NICU work to reduce the environmental stresses in the NICU and use nondrug comfort measures. These include "nesting" the baby in the incubator and keeping the noise level down.
You can rely on our staff to teach you about your child's condition and help you find resources to care for your child after you leave.
Our goal is to get you and your baby home – or back to a hospital close to home – as soon as it is safe.