Current Research Studies
Conmoción cerebral – Programa de ejercicio móvil subumbral para la conmoción cerebral
Condition or Therapy:
Conmoción cerebral
Category:
Ortopedia y medicina para el deporte; Medicina de rehabilitación
What is the goal of this study?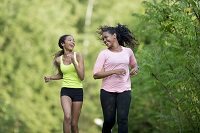 Nuestro equipo de investigación desea ver si el ejercicio puede ayudar a los chicos a recuperarse de una conmoción cerebral más rápidamente. Los jóvenes que padecen de conmoción cerebral frecuentemente tienen dolor de cabeza o se sienten mareados cuando intentan hacer ejercicio. Estamos estudiando si el aumento gradual del ejercicio puede ayudar a avanzar en la recuperación.
Who can join the study?
Este estudio puede ser adecuado para niños y adolescentes que:
Tienen entre 11 y 18 años de edad.
Tuvieron una conmoción cerebral y todavía no se sienten mejor.
Se pide que en el estudio participen los niños y uno de sus padres. Para saber si usted y su hijo son elegibles para este estudio, le pedimos que complete esta breve encuesta.
What will happen if my child takes part in this study?
Todas las partes del estudio se harán en forma completamente remota. Si usted y su hijo deciden participar en el estudio, ambos completarán encuestas en línea en varios momentos del proceso. Su hijo también:
Llevará puesto un monitor de actividad para medir los ejercicios.
Se le dará un programa de ejercicios elegido al azar para que los haga a diario durante seis semanas.
Se entrevistará semanalmente con un asistente de investigación por videoconferencia.
La participación en el estudio tomará entre 4 y 6 horas a lo largo de seis meses. El tiempo dedicado a los ejercicios variará según la participación.
Como agradecimiento por su participación, los jóvenes recibirán hasta $195 y los padres recibirán hasta $110. Si participa en solo parte del estudio, recibirá un pago parcial.
Who can I contact for more information?
Para más información, llame al (206) 457-3288 o envíe un correo electrónico a mstep@seattlechildrens.org.
También puede obtener más información sobre nuestro estudio en nuestro sitio web, mstepstudy.org (disponible solamente en inglés).
---