Seattle Children's Facilities
Seattle Children's Research Institute: Building Cure – More Room for More Cures
Take a Virtual Tour of Building Cure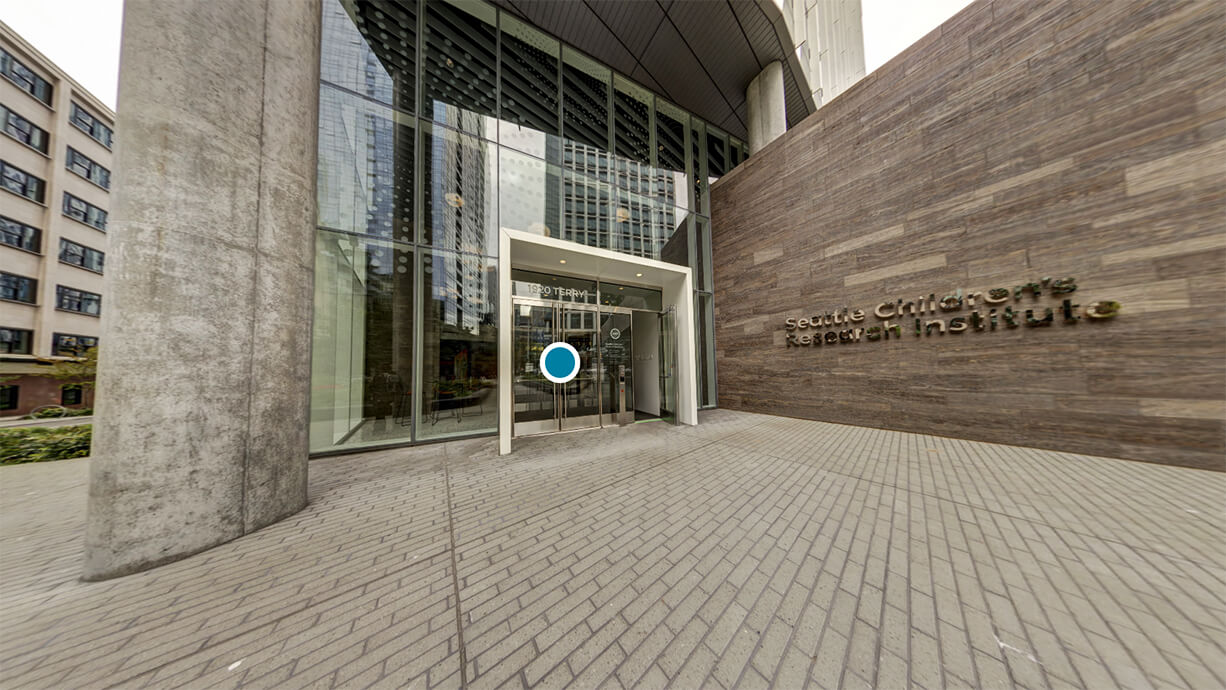 About the Building
Seattle Children's Research Institute: Building Cure is the latest step in Seattle Children's quest to revolutionize pediatric medicine and save the lives of more children. Located at Stewart Street and Terry Avenue in the heart of South Lake Union, Building Cure expands Seattle Children's Research Institute to more than one million square feet and includes:
A Good Manufacturing Practice (GMP) facility – called the Cure Factory™ – specializing in translating laboratory discoveries into patient treatments
Laboratory spaces to better enable our research workforce of more than 2,000 to develop life-changing solutions to childhood diseases
A 225-seat auditorium for scientific dialogue
A meeting room with flexible layouts for large meetings and events
A Science Discovery Lab to support Seattle Children's STEM education programs for children and teens
A 90×15-foot custom mural, conveying the history and hope of research at Seattle Children's
A series of display cases celebrating the people who are a part of making research discoveries possible
Outdoor green spaces designed to enhance the liveliness of the downtown community and for all to use
Meeting rooms, quiet work areas and amenities on each floor
About Seattle Children's Research Institute
Seattle Children's Research Institute is ranked fifth in the nation among pediatric research institutions for National Institutes of Health (NIH) funding.
When the research institute was officially established in 2006, there were 40 employees dedicated to research and 20,000 square feet of research space. Today we have a workforce of more than 2,000, we are doing research in hundreds of different areas and Seattle Children's Research Institute: Building Cure expands the footprint of our research campus to over 1.1 million square feet.
Our researchers are recognized for advancing discoveries in cancer, genetics, immunology, infectious disease and injury prevention. From pioneering cystic fibrosis treatments to cutting-edge cancer therapies, our researchers have made their mark in helping to prevent, treat and eliminate childhood diseases.
One revolutionary technique we are studying is immunotherapy, which reprograms a child's own immune system to fight cancer. Seattle Children's immunotherapy research and clinical trials are producing remarkable results – and have already saved lives.
Our scientists are also studying gene therapy to repair missing or damaged sequences in a child's DNA. This has the potential to cure genetic disorders like type 1 diabetes and sickle cell disease.
You Can Change the Future of Pediatric Medicine
Groundbreaking therapies developed at Seattle Children's over the last decade have put us on the cusp of bringing life-changing treatments to more children. Support from our generous community allows us to create lifesaving treatments for even more kids.