Sarah Leary Awarded R50 to Develop Cancer Trials and Programs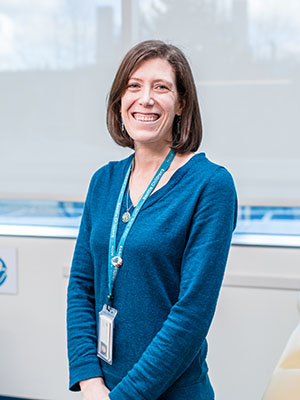 April 13, 2023 – Pediatric oncologist Dr. Sarah Leary, medical director of clinical research at Seattle Children's Research Institute's Ben Towne Center for Childhood Cancer Research, received a five-year, renewable Research Specialist Award (R50) — a new award mechanism for clinical researchers — from the National Institutes of Health (NIH) to connect the dots between cancer biology, data science and clinical trials, with the goal of better treatments and cures for children with cancer.
The award will provide 40% salary support for Leary, who also serves as Seattle Children's site principal investigator for the Children's Oncology Group (COG), a global consortium of pediatric hospitals, and as professor of pediatrics at the University of Washington.
"The R50 grant supports people like me whose work supports a variety of researchers, and I am honored that I was selected by the Fred Hutch Cancer Consortium and subsequently by the National Cancer Institute (NCI) to receive this award," she said.
At the national level, Leary serves as the clinical vice-chair of COG's Central Nervous Systems Committee and will continue work in a leadership role on the Molecular Characterization Initiative, a NIH-COG partnership to offer extensive molecular profiling to children with cancer to support patient care now and in the future as part of the Childhood Cancer Data Initiative.
The NIH's R50 program is designed to encourage the development of stable research career opportunities for exceptional clinician scientists who want to continue to participate in the NCI clinical trials networks through leadership in the development of national clinical trials, implementation of NCI clinical trials in their institutions, and national service to the NCI clinical trials networks through participation in the scientific review committees, monitoring committees and other activities.
"We believe Sarah is one of the only pediatric oncologists in the country to secure one of these clinical scientist awards, and we're proud she was selected to represent the cancer consortium," said Dr. Mignon Loh, director of the Ben Towne Center for Childhood Cancer Research and chief of the Division of Pediatric Hematology, Oncology, Bone Marrow Transplant and Cellular Therapy, overseeing the Cancer and Blood Disorders Center at Seattle Children's.
— Colleen Steelquist