Heather Gustafson Receives $4 Million MERIT Award for Pediatric Cancer Research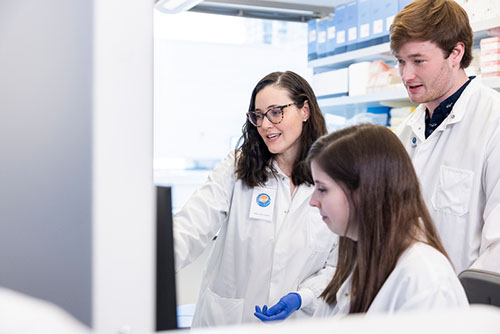 Feb. 9, 2023
Congratulations to Dr. Heather Gustafson, principal investigator in the Ben Towne Center for Childhood Cancer Research at Seattle Children's Research Institute, for her recent R37 Method to Extend Research in Time (MERIT) award from the National Cancer Institute at the National Institutes of Health.
The award, given to exceptional early-stage investigators to provide long-term stable funding, is worth $4 million over five years, with an additional two years' support based on a review of accomplishments during the initial funding segment.
The funding will propel her team's work to identify if a child's inflammatory status prior to cancer therapy can impact the success of the therapy. Gustafson directs the Engineering and Designing Immunotherapies (EDIT) Lab.
"The award provides our team with the opportunity to understand how a child's own immune system can accept or reject cancer therapy," Gustafson said. "We believe this work will provide an avenue to change outcomes with the goal to get every child home to more hugs.
"This funding is really a testament to the hard work of our team, Dr. Katelyn Burleigh and Blair Armstrong, and of our collaborators Drs. Rebecca Gardner and Navin Pinto at Seattle Children's Therapeutics, as well as Dr. Bobbie-Jo Webb Robertson at Pacific Northwest National Laboratory and Dr. James Keck at The Jackson Laboratory. Science is team sport and the National Cancer Institute believes, like I do, that we are the team to get this done. We are really excited to get started," she said.
— Colleen Steelquist