Tuberculosis Bacterium's Cellular Signaling System Plays Key Role in its Biology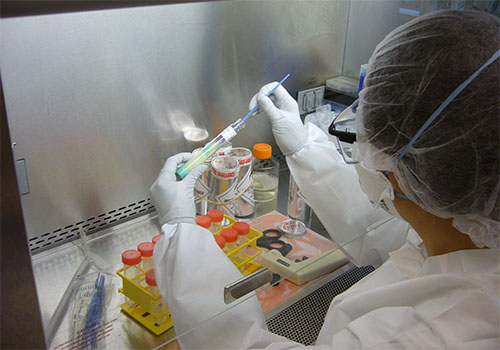 April 28, 2023 – Researchers in the Center for Global Infectious Disease Research at Seattle Children's Research Institute and colleagues have found that a set of signaling proteins in Mycobacterium tuberculosis (the microbe that causes tuberculosis, or TB) play a larger role regulating its growth, development and behavior than previously known.
The findings, published in the journal Nature Microbiology, looked at a group of the bacterium's signaling proteins — kinases — that regulate cell behavior. Kinases attach molecules, called phosphates, to other proteins to regulate the proteins' activity in a process dubbed phosphosignaling.
Dr. Christoph Grundner, principal investigator at the research institute and an associate professor in the Department of Pediatrics at the University of Washington, oversaw the study and said Mycobacterium tuberculosis supports a phosphosignaling system more complex than ever seen in bacteria.
To determine how large a role the kinases were playing in bacteria biology, the researchers studied the 11 proteins in the bacterium's inner membrane that sense external environmental changes and convey that information inside the cell.
They found the kinases to have a profound impact. They cause protein modifications on more than 14,000 unique sites that affect more than 80% of the proteins in the cell and interact with the protein machinery that regulates about 30% of the bacterium's genes.
"The study changes the way we think about phosphosignaling in bacteria," Grundner said.
TB researchers can now use this analysis of the bacterium's phosphosignaling activity to unravel how TB survives and adapts in humans or resists antibiotics.
"Given the kinases' large regulatory role, they are potential 'druggable' targets to interfere with a broad range of Mycobacterium tuberculosis physiology," said Grundner, who noted the current treatment challenges of complex drug regimens and multi-drug resistant strains for the 9 million people worldwide who contract TB annually. The disease kills more than 1.6 million people each year.
Drs. Andrew Frando and Vishant Boradia, postdoctoral fellows in the Grundner Lab, were the paper's lead authors. Dr. Shuyi Ma, principal investigator at the research institute and an assistant professor in UW's Department of Pediatrics, former postdoctoral fellow Dr. Michael-Claude Beltejar, and Pacific Northwest National Laboratory and University of Washington researchers also contributed to the findings.
The National Institutes of Health and the American Lung Association's Interdisciplinary Program in Bacterial Pathogenesis funded the research. Portions of this research were supported by NIH National Institute of General Medical Sciences.
— Colleen Steelquist