Murdock Grant Enables New Cell Analyzer as Shared Resource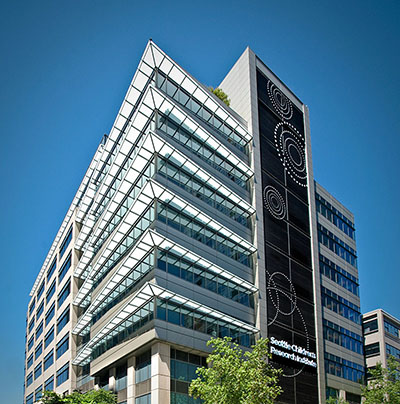 April 24, 2023
Dr. Rhea Coler, principal investigator in Seattle Children's Research Institute's Center for Global Infectious Disease Research, and Dr. Shaun Jackson, principal investigator in the institute's Center for Immunity and Immunotherapies, received a grant worth nearly $481,000 from the M.J. Murdock Charitable Trust to purchase a BD FACSymphony™ A5 Cell Analyzer for the research institute.
The instrument enables the identification and analysis of rare cell types and events through high-dimensional cell analysis. It will be a shared resource in the research institute's Integrated Flow Cytometry Core and brings its flow core up to industry standards. This investment will benefit many basic science and translational groups across diverse scientific interests.
Coler, who is also a professor of pediatrics at the University of Washington School of Medicine and an adjunct professor in UW's Department of Global Health, said she is "beyond thrilled" about the acquisition, which will allow her to do her research more rapidly and thoroughly.
"This high parameter flow cytometer is a powerful analytical tool that will enable us to identify and analyze distinctive phenotypes (characteristics resulting from gene expression) in diverse populations," Coler said. "The equipment is designed specifically for both preclinical and clinical immunology research and will be used for evaluation of vaccines against infectious diseases, drugs and other biomedical innovations."
Coler's research requires multiparameter immunophenotyping of both early, non-specific (innate) immune responses and antigen-specific (adaptive) responses. She said the flow cytometer will be invaluable for seven of her current NIH-funded research projects as well as extension studies and those supported by national and international biotechnology companies.
Jackson, who is an associate professor of pediatrics at the University of Washington School of Medicine, is equally enthused about the addition. His lab's goal is to uncover the B cell-specific signals driving breaks in immune tolerance for patients with systemic lupus erythematosus (SLE), the most common form of the autoimmune disease lupus.
Jackson's studies also require multiparameter immunophenotyping of adaptive immune subsets, which had been constrained by current instrumentation. He will use the cell analyzer for two current NIH-funded projects and for ongoing extension studies.
In a recent research collaboration with Dr. Jane Buckner at Benaroya Research Institute that utilized BRI's state-of-the-art cell analyzers, Jackson uncovered a new B cell subset that likely contributes to a form of autoimmunity implicated in SLE. "Importantly, we would not have identified this B cell phenotype using our available flow cytometry analyzers, highlighting our critical need for modern multiparameter instruments," he said.
"Seattle Children's is grateful to the M. J. Murdock Charitable Trust and their commitment to supporting the prosperity of the people and communities of the Pacific Northwest. The Trust's philanthropic investment in a state-of-the-art cell analyzer is significant and will help power our relentless pursuit of cures and better treatments for childhood disease," said Dondi Cupp, Children's senior vice president and chief development officer. "Congratulations to Drs. Rhea Coler and Shaun Jackson for receiving this major grant from the Trust to advance pediatric research."
— Colleen Steelquist