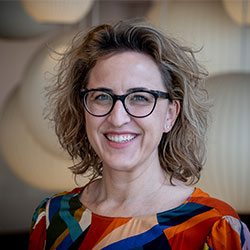 "I've been fascinated by scientific puzzles ever since I was young, and I'm excited to apply that fascination to genetics and neuroscience. My goal is to understand how genetic changes contribute to neurodevelopmental disorders, and to make discoveries that lead to new therapies. Someday, I hope my work contributes to treatments that help childrens brains function normally so they can lead the happiest, healthiest possible lives."
Kimberly Aldinger, PhD, studies how genes influence brain development, and how those processes malfunction to cause neurodevelopmental disorders.

She is particularly interested in understanding disorders that affect the cerebellum the part of the brain known for fine-tuning motor movements to enable posture, balance and speech. The cerebellum also plays an important role in the network that controls intellectual and emotional skills, which can be affected when the cerebellum is disconnected from other areas of the brain.

Through her research, Aldinger is discovering gene mutations that drive neurodevelopmental disorders, and unraveling how previously-discovered mutations influence these disorders and normal brain development.

Her goal is to contribute to therapies that help children overcome limitations due to genetic and acquired changes during early development.

Manuscripts in Refereed Journals

Plummer JT, Evgrafov OV, Bergman MY, Friez M, Haiman CA, Levitt P, Aldinger KA

Transcriptional regulation of the MET receptor tyrosine kinase gene by MeCP2 and sex-specific expression in autism and Rett syndrome.
24150225 Translational Psychiatry, 2013 Oct. 22 : 3e316

PMCID:PMC3818007

Other Publications

Van De Weghe JC, Rusterholz TDS, Latour B, Grout ME, Aldinger KA, Shaheen R, Dempsey JC, Maddirevula S, Cheng YH, Phelps IG, Gesemann M, Goel H, Birk OS, Alanzi T, Rawashdeh R, Khan AO, University of Washington Center for Mendelian Genomics., Bamshad MJ, Nickerson DA, Neuhauss SCF, Dobyns WB, Alkuraya FS, Roepman R, Bachmann-Gagescu R, Doherty D

Mutations in ARMC9, which Encodes a Basal Body Protein, Cause Joubert Syndrome in Humans and Ciliopathy Phenotypes in Zebrafish.
28625504 American journal of human genetics, 2017 July 6 : 101(1)23-36

PMCID:PMC5501774

Lardelli RM, Schaffer AE, Eggens VR, Zaki MS, Grainger S, Sathe S, Van Nostrand EL, Schlachetzki Z, Rosti B, Akizu N, Scott E, Silhavy JL, Heckman LD, Rosti RO, Dikoglu E, Gregor A, Guemez-Gamboa A, Musaev D, Mande R, Widjaja A, Shaw TL, Markmiller S, Marin-Valencia I, Davies JH, de Meirleir L, Kayserili H, Altunoglu U, Freckmann ML, Warwick L, Chitayat D, Blaser S, Çağlayan AO, Bilguvar K, Per H, Fagerberg C, Christesen HT, Kibaek M, Aldinger KA, Manchester D, Matsumoto N, Muramatsu K, Saitsu H, Shiina M, Ogata K, Foulds N, Dobyns WB, Chi NC, Traver D, Spaccini L, Bova SM, Gabriel SB, Gunel M, Valente EM, Nassogne MC, Bennett EJ, Yeo GW, Baas F, Lykke-Andersen J, Gleeson JG

Biallelic mutations in the 3' exonuclease TOE1 cause pontocerebellar hypoplasia and uncover a role in snRNA processing.
28092684 Nature genetics, 2017 March : 49(3)457-464

PMCID:PMC5325768

Haldipur P, Dang D, Aldinger KA, Janson OK, Guimiot F, Adle-Biasette H, Dobyns WB, Siebert JR, Russo R, Millen KJ

Phenotypic outcomes in Mouse and Human Foxc1 dependent Dandy-Walker cerebellar malformation suggest shared mechanisms.
28092268 eLife, 2017 Jan. 16 : 6

PMCID:PMC5271606

Mitra I, Tsang K, Ladd-Acosta C, Croen LA, Aldinger KA, Hendren RL, Traglia M, Lavillaureix A, Zaitlen N, Oldham MC, Levitt P, Nelson S, Amaral DG, Herz-Picciotto I, Fallin MD, Weiss LA

Pleiotropic Mechanisms Indicated for Sex Differences in Autism.
27846226 PLoS genetics, 2016 Nov. 15 : 12(11)e1006425

Di Donato N, Jean YY, Maga AM, Krewson BD, Shupp AB, Avrutsky MI, Roy A, Collins S, Olds C, Willert RA, Czaja AM, Johnson R, Stover JA, Gottlieb S, Bartholdi D, Rauch A, Goldstein A, Boyd-Kyle V, Aldinger KA, Mirzaa GM, Nissen A, Brigatti KW, Puffenberger EG, Millen KJ, Strauss KA, Dobyns WB, Troy CM, Jinks RN

Mutations in CRADD Result in Reduced Caspase-2-Mediated Neuronal Apoptosis and Cause Megalencephaly with a Rare Lissencephaly Variant.
27773430 American journal of human genetics, 2016 Nov. 3 : 99(5)1117-1129

PMCID:PMC5097945

Gripp KW, Aldinger KA, Bennett JT, Baker L, Tusi J, Powell-Hamilton N, Stabley D, Sol-Church K, Timms AE, Dobyns WB

A novel rasopathy caused by recurrent de novo missense mutations in PPP1CB closely resembles Noonan syndrome with loose anagen hair.
27264673 American journal of medical genetics. Part A, 2016 June 5
The genetics of cerebellar malformations.
27160001 Seminars in fetal and neonatal medicine, 2016 May 6

Aldinger KA, Mendelsohn NJ, Chung BH, Zhang W, Cohn DH, Fernandez B, Alkuraya FS, Dobyns WB, Curry CJ

Variable brain phenotype primarily affects the brainstem and cerebellum in patients with osteogenesis imperfecta caused by recessive WNT1 mutations.
26671912 Journal of medical genetics, 2015 Dec. 15

Aldinger KA, Lane CJ, Veenstra-VanderWeele J, Levitt P

Patterns of Risk for Multiple Co-Occurring Medical Conditions Replicate Across Distinct Cohorts of Children with Autism Spectrum Disorder.
26011086 Autism research : official journal of the International Society for Autism Research, 2015 Dec. : 8(6)771-81

Aldinger KA, Mosca SJ, Tétreault M, Dempsey JC, Ishak GE, Hartley T, Phelps IG, Lamont RE, O'Day DR, Basel D, Gripp KW, Baker L, Stephan MJ, Bernier FP, Boycott KM, Majewski J, University of Washington Center for Mendelian Genomics, Care4Rare Canada, Parboosingh JS, Innes AM, Doherty D

Mutations in LAMA1 cause cerebellar dysplasia and cysts with and without retinal dystrophy.
25105227 American journal of human genetics, 2014 Aug. 7 : 95(2)227-34

PMCID:PMC4129402

Aldinger KA, Kogan J, Kimonis V, Fernandez B, Horn D, Klopocki E, Chung B, Toutain A, Weksberg R, Millen KJ, Barkovich AJ, Dobyns WB

Cerebellar and posterior fossa malformations in patients with autism-associated chromosome 22q13 terminal deletion.
23225497 American journal of medical genetics. Part A, 2013 Jan. : 161A(1)131-6

PMCID:PMC3733662

Fatemi SH, Aldinger KA, Ashwood P, Bauman ML, Blaha CD, Blatt GJ, Chauhan A, Chauhan V, Dager SR, Dickson PE, Estes AM, Goldowitz D, Heck DH, Kemper TL, King BH, Martin LA, Millen KJ, Mittleman G, Mosconi MW, Persico AM, Sweeney JA, Webb SJ, Welsh JP

Consensus paper: pathological role of the cerebellum in autism.
22370873 Cerebellum (London, England), 2012 Sept. : 11(3)777-807

PMCID:PMC3677555

Aldinger KA, Plummer JT, Qiu S, Levitt P

SnapShot: genetics of autism.
22017998 Neuron, 2011 Oct. 20 : 72(2)418-8.e1

Aldinger KA, Lehmann OJ, Hudgins L, Chizhikov VV, Bassuk AG, Ades LC, Krantz ID, Dobyns WB, Millen KJ

FOXC1 is required for normal cerebellar development and is a major contributor to chromosome 6p25.3 Dandy-Walker malformation.
19668217 Nature genetics, 2009 Sept. : 41(9)1037-42

PMCID:PMC2843139

Aldinger KA, Elsen GE, Prince VE, Millen KJ

Model organisms inform the search for the genes and developmental pathology underlying malformations of the human hindbrain.
19778712 Seminars in pediatric neurology, 2009 Sept. : 16(3)155-63

PMCID:PMC2778478

---

| Presentations Title | Event | Location | Date |
| --- | --- | --- | --- |
| Solving forgotten disorders: gene discovery for cerebellar malformations | GENEWIZ genomic seminar series | http://www.genewizweek.com/index.php/webinar-solving-forgotten-disorders/ | June 16, 2016 |
| Advances in autism research brought to you by the letters A, C, T, and G | Bainbridge Library Program on Childhood Brain Development | Bainbridge, WA | Sept. 19, 2015 |
Overview
Medical/Professional School

University of Chicago, Chicago

Fellowship

University of Southern California, Los Angeles

Research Description

Dr. Aldinger's research investigates how the brain develops normally and how brain development can be impacted by genetic or non-genetic changes. She investigates how the molecular pathways affect development of the cerebellum. Her goals are to: (1) identify genetic causes and cell-types affected that lead to cerebellar malformations, (2) better define the molecular profiles of neurons in the developing cerebellum, and (3) evaluate the relationships between neurodevelopmental disorders and cerebellar dysfunction.