Innate Immune Response to Bacterial Infections to Prevent Sepsis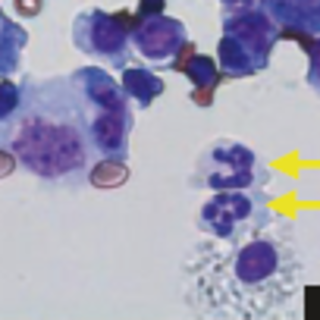 Sepsis is life-threatening organ dysfunction caused by a dysregulated host immune response to infection. Sepsis remains a significant health problem worldwide and is one of the most common causes of death in children. An impaired innate immune response can predispose to and exacerbate sepsis by compromising the patient's ability to combat an infection. However, the immune cells and mediators that enhance the innate immune response that help to prevent sepsis are still unknown. The Piliponsky lab uses genetic and pharmacological approaches to investigate the contribution of mast cells and basophils to innate immunity and resistance to the development of sepsis.
Bronchial Airway Epithelial Cells in the Pathobiology of Asthma
Although current standard of care treatments for persistent asthma (targeting TH2/allergic inflammation) are effective at improving symptoms and reducing exacerbation frequency, they are suboptimal as millions of viral-triggered childhood asthma exacerbations occur annually in the U.S. leading to significant morbidity and a large cost to the health care system. Furthermore, treatment of TH2 inflammation has not been shown to alter the natural history of asthma nor prevent lung function decline. Research conducted in the Debley Laboratory seeks to investigate roles of bronchial airway epithelial cells in the pathobiology of asthma. Primary focus areas include determining: (1.) How airway epithelial cell signaling pathways regulate neighboring stromal cells (e.g. fibroblasts/smooth muscle cells), and how such pathways are dysregulated in asthma leading to airway remodeling and lung function abnormalities in epithelial cell donors, and (2.) Improved understanding of the heterogeneity of airway epithelial interferon responses to respiratory viruses in asthma, and how deficient or excessive interferon responses impact the risk of asthma exacerbations, airway remodeling responses and lung function. Dr. Debley's research program obtains primary bronchial epithelial cells from children with and without asthma who are undergoing elective surgical procedures at Seattle Children's Hospital. This infrastructure is a unique resource in the U.S., providing a steady source of primary bronchial airway epithelial cells from carefully characterized children to conduct mechanistic investigations (stratified by the clinical characteristics such as lung function, exacerbation history, and disease severity of cell donors) to better understand the role of the epithelium in childhood asthma.
Physical Address
1920 Terry Ave.
Seattle, WA 98101
Mailing Address
PO Box 5371
Seattle, WA 98145-5005