Full project summary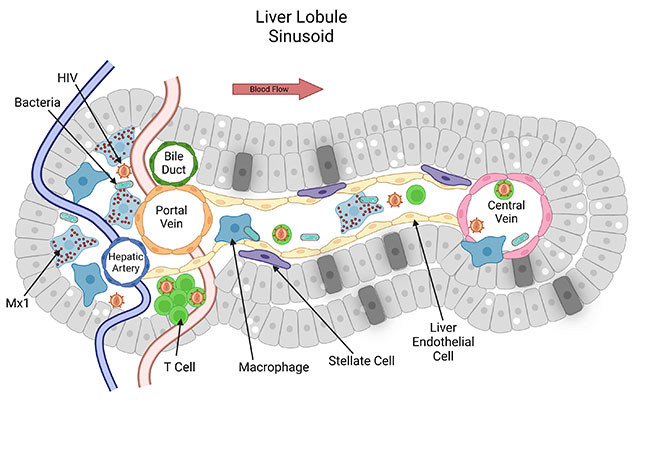 In people living with HIV (PLWH) and effectively treated with combination antiretroviral therapy (cART), liver disease is currently the most common cause of non-AIDS morbidity and mortality. We are interested in dissecting immune and microbial changes that occur in the liver during an HIV infection to identify early triggers of liver dysfunction. We relate our findings to clinical changes that can be observed through histological analysis. Our long-term goal is to utilize our findings to identify immune therapeutic approaches that prevent/suppress liver disease in PLWH. Ongoing projects assess liver biopsies collected laparoscopically from non-human primates (SIV-cART macaque model) to evaluate changes longitudinally. Projects utilize microscopic (pictured here), flow cytometric and molecular analyses to undertake these evaluations.
We are undertaking this study in collaboration with Dr. Ben Burwitz and the Oregon National Primate Research Center.
Related papers
Liver Bacterial Dysbiosis With Non-Tuberculosis Mycobacteria Occurs in SIV-Infected Macaques and Persists During Antiretroviral Therapy.
Fisher BS, Fancher KA, Gustin AT, Fisher C, Wood MP, Gale M Jr, Burwitz BJ, Smedley J, Klatt NR, Derby N, Sodora DL.Front Immunol. 2022 Jan 10;12:793842. doi: 10.3389/fimmu.2021.793842. eCollection 2021.PMID: 35082782
Liver macrophage-associated inflammation correlates with SIV burden and is substantially reduced following cART.
Fisher BS, Green RR, Brown RR, Wood MP, Hensley-McBain T, Fisher C, Chang J, Miller AD, Bosche WJ, Lifson JD, Mavigner M, Miller CJ, Gale M Jr, Silvestri G, Chahroudi A, Klatt NR, Sodora DL.PLoS Pathog. 2018 Feb 21;14(2):e1006871. doi: 10.1371/journal.ppat.1006871. eCollection 2018 Feb.PMID: 29466439
Contact Us
Physical Address
Center for Global Infectious Disease Research
307 Westlake Ave. N
Seattle, WA 98109