Biley Abatiyow
Research Technician I
Biley Abatiyow is an undergrad student at the University of Washington studying Medical Anthropology and Global Health. She joined the lab June 2019 as an intern. Her interest in malaria stems from her global health classes were she learned about the effects malaria has on children under the age of five in many countries around the world. Studying the consequences of the infectious disease sparked her interest in malaria vaccine research. Some of her skill sets include conducting genomic DNA preparation through PCR analysis, and many other molecular-bio work. Outside of the lab she likes to travel, hiking and spending time with family.
Silvia Arredondo, PhD
Research Scientist III
Dr. Silvia Arredondo is a staff scientist with a PhD from the University of Texas at Austin, where she was formally trained as a chemical engineer with emphasis on protein engineering and disulfide bond formation. Her interest in applying her skills to the fight against malaria led her to a postdoctoral fellowship at the National Institutes of Health. During her time at the NIH, she focused on the structural and functional characterization of P. falciparum blood stage 6-cys proteins. Her work yielded the first molecular structure for this protein family. Arredondo remains intrigued by the 6-cys proteins and she is interested in elucidating the roles of the members of this family in the pre-erythrocytic stages.
Will Betz, MS
Research Technician II
Will Betz is a research technician with a MS degree from the University of Southampton. He has worked at the center since 2008. Previously, he worked as a field biologist/wildlife conservationist in New Guinea. It was there that he witnessed the pervasive and debilitating impact that malaria has on human health and economic development, and he himself contracted Vivax malaria on two occasions. His primary work responsibility is maintaining stocks of rodent malaria–infected mosquitoes, as well as supplying researchers with rodent and human malaria parasites via mosquito dissection. Outside of work, Betz enjoys photography, hiking and travelling with his wife, Debbie.
Nelly Camargo, BSc
Research Associate III
Nelly Camargo joined Dr. Stefan Kappe's lab, then at New York University, in 2002. She received her BSc from the Universidad Nacional de Colombia. Nelly has played an integral part to many research programs in the lab spanning from establishing transfection technology of the rodent and human malaria parasites to supporting the Human Challenge Center (HCC) with malaria clinical trials. In partnership with the HCC, Nelly has been involved in both safety and efficacy trials in human volunteers with a genetically attenuated parasite that was created in the lab. She believes that excellent, honest, persistent and truly cooperative work will eventually lead to control of the damage inflicted to so many people by the Plasmodium parasite that causes malaria. Outside of the lab Nelly enjoys spending time with her family.
Debashree Goswami, PhD
Fellow
Dr. Debashree Goswami received her PhD from the Max Planck Institute for Molecular Biomedicine and University of Münster, Germany, in 2016. During her PhD, she investigated the role of a receptor-ligand pair involved in the process of leukocyte transendothelial migration using gene-deficient mice. For her postdoc, she wanted to transition into a lab involved in applied research, which brought her to the Kappe Lab. In the Kappe Lab, she is currently working on the malaria vaccine project that requires generating genetically attenuated parasites (GAP) that arrest late in the liver stage. These late-arresting GAPs would serve as the next potential vaccine candidate. In her spare time, she enjoys playing tennis and volleyball and going on hikes.
Priya Gupta, PhD
Fellow
Meseret Haile
Research Technician I
Nina Hertoghs, PhD
Fellow
Dr. Nina Hertoghs is working as a post-doctoral researcher who shares her time between the labs of Drs. Stefan Kappe and Ken Stuart. She received her PhD from the University of Amsterdam, where she investigated the initial interactions between enveloped viruses like HIV-1 and Ebolavirus with mucosal dendritic cell-subsets. Here she will be involved in the HIPC2 project in which she will aim to characterize the immune responses that are elicited in several malaria-vaccine trials, and hopefully identify correlates of protection. In addition, she will utilize in vitro and ex vivo assays in order to get a more mechanistic understanding of antimalarial immunity. Outside the lab, she enjoys discovering Seattle, especially the culinary highlights the city has to offer.
Charlie Jennison, PhD
Fellow
Dr. Charlie Jennison received his master's degree in medical parasitology from the London School of Hygiene and Tropical Medicine, researching novel diagnostic tests for schistosomiasis in Uganda. After three years researching sexually transmitted infections in Cambridge, UK, he undertook a PhD at the Walter and Eliza Hall Institute of Medical Research in Melbourne, where he focused on the gametocyte and sporozoite biology of P. falciparum. In the Kappe and Vaughan Labs, he is continuing his research interests in exoerythrocytic parasite biology, investigating proteins important for parasite infection of mosquito and human/rodent hosts, as well as working to advance the design of genetically attenuated parasites as a malaria vaccine. Outside of the lab he enjoys hiking, snowboarding and local IPAs.
Sudhir Kumar, PhD
Fellow
Dr. Sudhir Kumar is a postdoctoral scientist in the Kappe and Vaughan Labs. He obtained his PhD from the National Institute of Immunology/Jawaharlal Nehru University, New Delhi, India, working on calcium and cyclic nucleotide mediated signaling in Plasmodium falciparum erythrocytic stages. His current project focuses on experimental genetic crosses between different artemisinin-resistant and -sensitive parasites to discover the mechanism of drug resistance in Plasmodium falciparum. Outside of the lab he likes to travel, read, play badminton and watch cricket.
Amanda Leeb
Research Technician I
Nana Minkah, PhD
Fellow
Dr. Nana Minkah joined the Kappe Lab in October 2015 as a postdoctoral fellow. He received his PhD from Stony Brook University, where he utilized a murine model of herpesvirus infection to identify virus and host factors critical for the establishment and maintenance of chronic herpesvirus disease. In the Kappe Lab, he is studying how the early immune response to a genetically attenuated parasite influences its use as a vaccine candidate. Outside of the lab, he spends most of his time watching soccer and exploring the beautiful Pacific Northwest.
Vera Okolo
Research Technician I
Hardik Patel, PhD
Fellow
Dr. Hardik Patel joined the Kappe Lab as a postdoctoral scientist. He received his PhD from Institute of Science, Nirma University, India where he focused on understanding the dynamics of CD8 T cells response during maintenance of RAS (Radiation Attenuated Sporozoites) vaccine mediated sterile protection. In the Kappe Lab, he is extending his interest in studying the immune responses generated by GAPs (Genetically Attenuated Parasites) against Plasmodium Liver-stage infection. Outside the lab, he likes to play volleyball, badminton and enjoys hiking and exploring Washington state with his wife, Beena.
Laura Reynolds
Research Technician I
Antonino Schepis, PhD
Research Scientist III
Dr. Antonino Schepis received his PhD from the European Molecular Biology Laboratory in Heidelberg. During his PhD, he studied the cellular changes caused by Vaccinia virus infection. Later, he moved in the San Francisco Bay area where he was a postdoctoral fellow at Stanford University with Prof. James Nelson and a senior postdoctoral fellow at University of California San Francisco with Prof. Shaun Coughlin. During his time in the bay area, he studied epithelial tissue dynamics and homeostasis at early stage of embryonic development using live cell imaging. In the Kappe Lab, he is interested to understanding how the plasmodium is able to manipulate the host cytoskeleton and membranes to achieve invasion of and egress from the liver. Outside the lab, he enjoys exploring Seattle and the Pacific Northwest with his family.
Kristian Swearingen, PhD
Visiting Scientist
Dr. Kristian Swearingen is a visiting scientist at CGIDR and a senior research scientist at the Institute for Systems Biology in the lab of Dr. Rob Moritz. He received his PhD in analytical chemistry from the University of Washington. Swearingen specializes in the development of mass spectrometry instrumentation and techniques for identifying and quantifying proteins. His work in collaboration with the Kappe and Moritz Labs has resulted in characterization of protein expression in Plasmodium salivary gland sporozoites, including identifying proteins exposed on the parasite surface that may serve as new targets for vaccines against malaria. He is currently investigating the role of post-translational protein modifications as chemical signals in the development of infectivity in mosquito stage Plasmodium as well as in transmission of the parasite from the human host to the mosquito vector. When not in the lab, he enjoys spending time with his family, hiking, playing music and brewing beer.
Shawna Stonum
Administrative Assistant Sr., Research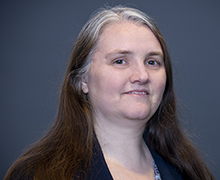 Shawna Stonum began supporting labs at 307 Westlake in December 2017 and joined the Kappe and Vaughan Labs in October 2018. Shawna has supported staff in both the non-profit and for-profit sectors in a variety of industries, including social services, health care, finance and now life sciences. Her favorite groups of people are those who use their skills to benefit the greater good. Shawna derives great satisfaction in being an integral part of the puzzle that works to potentially save lives and improve the quality of living those lives.
Ashley Vaughan, PhD
Research Assistant Professor
Ashley Vaughan, PhD, is a research assistant professor. He received his PhD from the London School of Hygiene and Tropical Medicine. During his tenure in the Kappe Lab, he showed the importance of the parasite's fatty acid synthetic pathway for sporozoite and liver stage maturation. He also researches how to elicit the most protective immune response after vaccination with genetically attenuated parasites. Ashley's collaborations with Sebastian Mikolajczak led to significant advances in the use of human-liver chimeric mouse models in studying malaria. This includes complete liver stage development and the transition to blood stage malaria in the mouse for the human malarias Plasmodium falciparum and Plasmodium vivax. He has also used this mouse model for the creation of experimental Plasmodium falciparum genetic crosses, a significant advance that should aid in our understanding of Plasmodium falciparum drug resistance. Ashley continues to be fascinated by basic parasite pre-erythrocytic biology and uses rodent malaria and parasite transgenesis to understand how the parasite interacts with its vector and host during sporozoite and liver stage development. Outside of the lab, he is a keen hiker, traveler, gardener and scuba diver, pastimes he enjoys with and without his husband, Rafael.
Sean Windle
Grad Student
Gigliola Zanghi, PhD, PharmD
Fellow
Dr. Gigliola Zanghí received her Doctor of Pharmacy from University of Messina (Italy). She also obtained a PhD in parasitology through the French Parasitology Alliance for Health Care (ParaFrap). During her PhD, working at Mazier Lab (UPMC, Paris, France) in collaboration with Scherf lab (Institute Pasteur, Paris, France), she was interested in the epigenetic regulation of the Plasmodium falciparum sporozoites and the mechanisms underlying the quiescence of Plasmodium relapsing species. After a post-doc at the Institut Pasteur (Paris, France), where she continued studying the epigenetic regulation of P. falciparum pre-erythrocitic stages, she joined Kappe Lab. Her work is currently focused on elucidating the mechanism of dormancy of P. vivax hypnozoites. Outside the lab she enjoys reading, travelling and exploring the beautiful nature that the state of Washington has to offer.