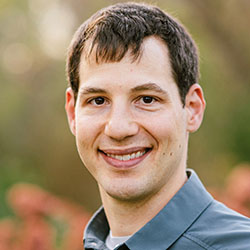 Benjamin Henry Gern, MD
Ben is a Principal Investigator at the Seattle Children's Research Institute, and an Assistant Professor in Pediatrics at the University of Washington. After completing his undergraduate studies at the University of Notre Dame, Ben spent time in Dr. Bruce Klein's lab at the University of Wisconsin – Madison. He received his MD from the University of Wisconsin - Madison, then completed Pediatric Residency at Oregon Health and Science University. Ben completed Pediatric Infectious Disease Fellowship at the University of Washington and Seattle Children's Hospital, during which he underwent postdoctoral training with Drs. Kevin Urdahl and Michael Gerner. Outside of the lab, Ben enjoys spending time with his family, hiking, biking, and paddling around the Pacific Northwest.
Josepha Klas, BSc

Research Scientist I

Josepha joined the lab after earning her BSc in molecular and cell biology from UC San Diego in 2021. Using advanced quantitative imaging and immunological techniques, she studies spatially resolved host-pathogen interactions and microenvironments which drive the development of diverse pulmonary tuberculosis lesions.

Mari Morikawa

Student Helper

Mari is an undergraduate student at the University of Washington and plans to graduate with a BS in biology (physiology) and a minor in bioethics. She first joined Dr. Kevin Urdahl's lab in 2021 through the UW TB Scholars Program and is excited to continue in the Gern lab.

Sylvia Stull, BS

Lab Manager (Research Scientist II)

Sylvia is a career laboratory scientist. After earning her BS in biology from the University of Washington, she began her career working in husbandry and spent many years working with multiple labs at Fred Hutch Cancer Center, including an extended period working in an immunology lab. Outside of the lab, Sylvia enjoys volunteering at the zoo and is an avid world traveler.