Seattle Children's Innovative Technologies Lab
Meet the Team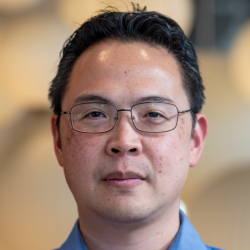 Frederick Shic, PhD
Frederick Shic, Associate Professor, CCHBD, Dept of Pediatrics, Division of General Pediatrics. Dr. Shic, a computer scientist by training, investigates the mechanisms, markers, and developmental processes associated with autism and other neuropsychiatric conditions using neurobehavioral techniques such as eye tracking, neurophysiological techniques such as functional near infrared spectroscopy, and technology-enhanced behavioral paradigms involving mobile applications, social robots, and video games.
Frederick Shic, Ph.D., is an Associate Professor at University of Washington/Seattle Children's Research Institute. Dr. Shic's current research interests include applications of eye-tracking and neuroimaging techniques (e.g. near infrared spectroscopy and magnetic resonance spectroscopy) to the study of the social and cognitive development in infants, toddlers, and children with autism, and the exploration of new technologies and methodologies for enriching both our understanding of autism and the lives of children with autism and their families. Prior to his appointment, Dr. Shic led the Technology and Innovation Laboratory at Yale University's Child Study Center. Prior to this, he was an associate research scientist under Dr. Katarzyna Chawarska, director of the Infant and Toddlers Developmental Disabilities Clinic and the Yale Early Social Cognition Laboratory. Prior to this, Dr. Shic completed an NIMH T32 training program in childhood neuropsychiatric disorders led Drs. James Leckman and Elena Grigorenko. Dr. Shic received his doctorate in Computer Science from Yale University and an undergraduate degree in Engineering and Applied Sciences from the California Institute of Technology. During his graduate work, Dr. Shic developed computational and mathematical approaches for analyzing eye-tracking data, with a focus on what these techniques can tell us about the social and cognitive development of children with autism spectrum disorders (ASD). Prior to this, Dr. Shic was software engineer at the Sony Interactive Studios of America, and, later, a researcher at the Huntington Medical Research Institutes, where he conducted research in 1H and 13C magnetic resonance spectroscopy (MRS), developing techniques for quantifying and visualizing brain metabolism and neurochemistry.
---
Jenny Skytta, MSIM
Research Supervisor
Jenny joined Seattle Children's in 2014. She graduated from University of Washington with a BA in Psychology and a MS in Information Management – Data Science specialization. Before joining the SCITL lab Jenny supported the Seattle Children's Research Coordinator Core as a CRC Lead, primarily as an industry-sponsored clinical trials lead. Prior to joining Seattle Children's, Jenny worked as a Research Supervisor in a treatment facility that studied interventions to reduce harm for adults and adolescents with chemical dependency. Jenny is passionate about working towards health equity for the community and bridging gaps in early ASD diagnosis; in particular, equity and representation of neurodiverse people of all ages.
---
Sarah Corrigan, MA
Clinical Research Coordinator - Lead and Licensed Counselor
Sarah received her BA in Psychology and MA in Experimental Psychology from Florida Atlantic University. Sarah worked as a case manager and educator for children with disabilities in early intervention for 6 years. Sarah joined Seattle Children's in 2011 to focus on pediatric research on ASD. Sarah's favorite part of the WONDER study is being able to play and interact with babies and toddlers.
---
Kelsey Dommer, MS
Clinical Research Scientist
Kelsey joined Seattle Children's in 2017. After taking her first Developmental Psychology class, she came away unable to stop thinking about how "babies are geniuses"! This excitement of early development led her to focus primarily on language, learning, and how these processes vary in individuals. Her favorite part of the WONDER study is seeing families so happy to contribute to science.
---
Meg Reninger
Clinical Research Coordinator
Meg's first experience with Seattle Children's was working as an intern on the WONDER study. After graduating from the University of Washington with a BS in Neuroscience, she officially joined Seattle Children's Innovative Technologies Lab (SCITL) in 2022 as a research coordinator. She is thrilled to be back and continuing work on the WONDER study as well as other studies with SCITL. Meg's favorite part of working on the SCITL team is the exposure to all aspects of research and how everyday brings a new opportunity to learn. Her research interests include the intersection between genetics and behavior.
---
Hayden Mayer
Clinical Research Coordinator
Hayden joined Seattle Children's in August 2022, after working at a different Research facility for a year. She graduated in 2021 with a B.S. in Psychology with a minor in Honors Interdisciplinary Studies from Western Washington University. She is interested in childhood development and plans to pursue a graduate degree in a related field in the future. Hayden's favorite part of the WONDER study is interacting with our study families and giving fun engagement gifts!
---
Katie Hegerberg, BS
Clinical Research Coordinator
Katie joined SCITL as a student intern while a junior at University of Washington majoring in Psychology and minoring in Data Science. She was recently hired as a Clinical Research Coordinator in SCITL supporting her interest in the cognitive development of children. She hopes to pursue a career in pediatric psychology. Outside the lab, Katie enjoys reading, exploring the Pacific Northwest, and playing with the Husky Marching Band.
---
Arya Ajwani
Arya is a junior at UW in the class of 2023. She loves working with children and has an interest in therapy, which is why she is working towards a major in Psychology. Arya enjoys Korean culture, especially the language, music, and dramas and is pursuing a minor in Korean. Out of everything she's learned through interning with the SCITL lab, Arya shares that she enjoys all of the data entry the most, as it makes her feel like part of the study.