Trowbridge Lab
Dr. Trowbridge's current research projects focus on improving palliative care access and delivery for patients from diverse backgrounds and teaching primary palliative care and communication skills to health professionals at all levels.
---
Investigator Biography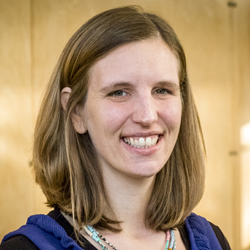 Amy Christine Trowbridge, MD
Amy Trowbridge, MD is an Assistant Professor of Pediatrics and an attending physician on the Palliative Care Team. She is the Co-Director of the University of Washington's Palliative Care Training Center (www.pctc.uw.edu), the Director of Pediatric Education for the Cambia Palliative Care Center of Education, and the Director of Education for the Division of Bioethics and Palliative Care. She earned her MD from Weill Cornell Medical College, completed Pediatrics residency at University of Washington/Seattle Children's Hospital, and Hospice and Palliative Medicine fellowship at the Children's Hospital of Philadelphia. In her spare time, Amy likes to zip around Seattle on her e-bike and watch her 2 kids (Harrison and June) grow. 
---
Current Research/Scholarship Projects
Implementing and Disseminating Quality Metrics and Educational Programs for Primary and Specialty Pediatric Palliative Care
Dr. Trowbridge leads the education arm of this project, the goal of which is to develop a series of interactive, evidence-based educational modules on key aspects of pediatric palliative care for interprofessional clinicians, and to further develop the pediatric track of the University of Washington's Graduate Certificate in Palliative Care.
Understanding Care Conference Communication for Seriously Ill Patients and Families
The goal of this project is to better understand the content and structure of communication in care conferences for children with serious illness, and to compare communication for families whose preferred language is English and those who prefer a language other than English.
A Simulation-Based Goals of Care Curriculum for Pediatric Residents
The goal of this project is to create novel simulation-based communication training programs for pediatric residents focused on sharing serious news, eliciting goals and values, and making values-based recommendations for patients with serious illness.
Highlighted Publications
Participate in Research
Help us answer questions about childhood health and illness and help other children in the future. Learn more.
Contact Us
Physical Address
1900 Ninth Ave.
Seattle, WA 98101
Mailing Address
M/S JMB-6
1900 Ninth Ave.
Seattle, WA 98101