Education
Special Supplement: Defining Cases in Pediatric Bioethics
The mission of the Treuman Katz Center for Pediatric Bioethics is to improve the experience of children, their families, and communities by enhancing ethical deliberation in pediatric healthcare, education, and research. Since July 2005, the center has hosted an annual summer conference on pediatric bioethics.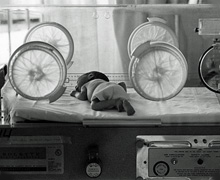 In 2019, the 15th annual conference – "Defining Moments in Pediatric Bioethics: Future Insights from Past Controversies" – sought to bring a historical lens to the field, looking back at some of the cases and issues that helped define and change pediatric bioethics. The two-day event brought together national leaders and junior scholars from a variety of disciplines to guide a conversation revisiting these cases, their lessons, and their implications for the future. These defining cases are drawn from the world of pediatric practice in which thoughtful people of good conscience can and do disagree, leading to conflicts between sometimes incompatible moral ideals, values, obligations, or interests. Defining cases not only test our beliefs and principles as pediatric caregivers, but also exemplify the vital need for pediatric bioethics as a discipline.
A special supplement published in Pediatrics features contributions from the conference speakers and abstract presenters, each telling the story of a defining case or cases. The authors provide historical and contextual background, and consider how the case influenced philosophical theories, altered legal and ethical thinking, and informs current medical and clinical ethics practice. Finally, the authors consider the lessons that these cases hold for the future of pediatric bioethics. These contributions span a variety of central issues in pediatric bioethics including disability, emerging treatments, decisional authority, uncertainty, best interests, suffering, adolescent refusal, public appeals, transplant, limited resources, and the status of fetuses.
The collection of articles demonstrates the evolution and breadth of pediatric bioethics, and illustrates how thoughtful individuals approach challenging cases, bringing to bear the perspectives of different academic and professional backgrounds. Although by no means comprehensive, we hope this collection may provide context, ideas, and inspiration for pediatric healthcare providers and bioethicists in this generation and the next.