Child Development and Parenting
Positive Parenting
The Positive Parenting program is Seattle Children's primary child abuse prevention program. We provide information and resources for the community, patient families and staff. A main component of the program is Promoting First Relationships, an evidence-based training for medical residents on infant and child mental health and the importance of parenting-child relationships for brain development.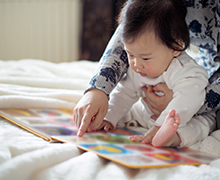 Each April during National Child Abuse Prevention Month, Seattle Children's provides education resources and activities to strengthen the protective capacities of parents to help children and families thrive.
Note, we do not offer positive parenting classes for the community.
Positive Parenting Resources
This calendar of parenting classes in the Puget Sound area Is searchable by language, location and topics.
Get expert advice on common parenting challenges including communication, how to create structure and discipline. View short demonstration videos. Available in Spanish.
Find information on community resources including parenting classes, health insurance, breast feeding support and food banks. Get access to activities and games that support healthy growth and learning. They also offer free developmental screening for children under 5. Available in Spanish. You can also call their Help Me Grow Washington Hotline 1-800-322-2588 (multiple languages available).
Parent Trust offers parenting information, a newsletter and parent coaching. Parent coaches are available Monday to Friday from 9 a.m. to 5 p.m at 800-932-4673.
For parents and caregivers of children age 0 to 3. The app and website offer daily activities to foster healthy brain development.
Information on parenting and early childhood development. Includes tips on supporting brain development and social emotional well-being through everyday activities. Addresses topics such as discipline and limit setting. App and weekly email available. In English and limited Spanish.