NextGEN: A Membership Giving Program
Meet Our Members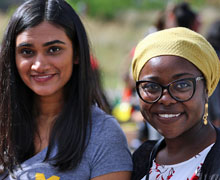 NextGEN members are located throughout the Puget Sound region and are dedicated to Seattle Children's mission of providing hope, care and cures to help every child live the healthiest and most fulfilling life possible. They advance philanthropy by networking with peers and sharing experiences during social and educational events that are held in person or online.
Meet Our NextGEN Council
Ira Gerlich, chair
Matt Englizian
Andrew Farnum
Alisa Gutierrez-Vitello
Brian Marcinek
Jason Mesnick
Brett Miller
Sarah Skinner
Constance Thompson
Doug Webb
Ben Wicks
Dennis Williams, Jr.