Seattle Children's Tri-Cities Clinic
WE'VE MOVED! NEW CLINIC LOCATION IN KENNEWICK AS OF MARCH 11, 2021
Please note that Seattle Children's Tri-Cities Clinic is now located in Kennewick.
New Clinic Address:
8232 W Grandridge Blvd.
Kennewick, WA 99336
We've made changes to our facilities to protect our patients, families and staff from COVID-19.
Everyone is required to wear masks at all times. Check-in and registration desks are cleaned regularly. We are screening for symptoms at all entrances and our spaces are set up to encourage social distancing.
Only 1 person may accompany a patient to an appointment or visit to any of our locations. Siblings over 12 months old are not allowed.
If we are unable to bring you to an exam room immediately, we may ask you to wait in your car until a room is ready.
Learn more about the rest of the safety measures we have in place at all Seattle Children's locations.
In the Neighborhood for Better Childhoods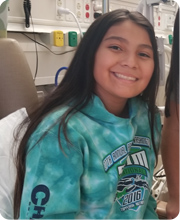 Seattle Children's Tri-Cities offers services in 20 medical specialties. New patients are welcome.
When you visit us, your child will see the same doctors and nurses who take care of children at our hospital in Seattle. We work closely with local healthcare providers to meet your child's needs in your home community. We also use the latest in technology to conduct telemedicine consultations.
Seattle Children's Tri-Cities is located in Richland. It serves children and their families in Tri-Cities and the surrounding Eastern Washington region.
Hours and Directions
8232 W. Grandridge Blvd.
Kennewick, WA 99336
Driving directions: call 206-987-2226, option 4.
Monday through Friday, 8:00 a.m. to 5 p.m.
Make an Appointment
Call Seattle Children's Tri-Cities at 509-582-1700. If you get a return call from our scheduling office, it may appear with a 206 area code.
You may need a referral from your primary care provider. Visit our Make an Appointment page to learn more.
Community providers and Seattle Children's providers are partners in the care of our patients. We encourage families to coordinate with their primary care pediatrician or family physician when coming to Seattle Children's.
Specialty Services at Seattle Children's Tri-Cities
Telemedicine
Our Telemedicine Program uses videoconferencing to connect you and your child with healthcare team members at Seattle Children's Hospital. Seattle Children's Tri-Cities offers telemedicine appointments in the following specialties:
Watch this video to learn more about telemedicine.
Preparing for Your Child's Visit