Psychiatry and Behavioral Medicine Unit (PBMU)
What is the PBMU?
Children with complex mental health issues may have times when they need to stay overnight in the hospital for treatment. When this happens, we have a specialized unit where we treat children ages 3 to 17 who are in psychiatric crisis. This unit is the PBMU.
The PBMU is divided into 3 programs based on the child's age and behavioral needs:
Child Inpatient Program, for children 12 years and under
Adolescent Inpatient Program, for teens 13 and older
Biobehavioral Inpatient Program, serving children and teens 3 to 17 who have severe intellectual and developmental disabilities and benefit from specialized programming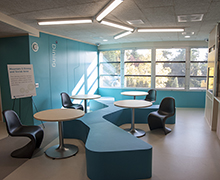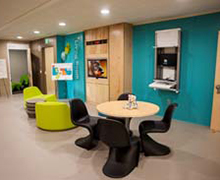 In a crisis?
If you, your child, family or friend needs help right away, call or text 988. Chat is another option. The 988 Suicide & Crisis Lifeline provides free and confidential support for people in distress, as well as prevention and crisis resources. The Lifeline is available 24 hours a day, 7 days a week in the United States.
Hotlines for Youth (PDF) provides other options for immediate help for children and teens. (Also available in Amharic, Arabic, Russian, Simplified Chinese, Somali, Spanish, Ukrainian and Vietnamese.)
Services We Offer
The PBMU provides short-term (7 to 10 days), evidence-based care. Our goal is to help stabilize your child's behavior by helping with their immediate crisis.
We use Modified Positive Behavior Interventions and Supports (M-PBIS) as the guiding philosophy and framework for our unit. Our expectations for our patients are:
Be safe
Be respectful
Communicate
When youth are struggling with our basic expectations, we use Collaborative Problem Solving, an evidence-based intervention used in schools, residential programs and other inpatient units to help identify solutions with youth.
Family involvement for the best results
You play an important role in helping your child succeed back at home, in school and in your community. We want you to take part in all aspects of your child's care in the PBMU, including:
Family therapy
Parent-focused groups
Education sessions
Family evaluations
Your child's care team will talk with you about services that may be helpful for your child's care. We invite you to tell us things that will help us know and care for your child.
Support to help your child transition
While your child is in the PBMU, we will make plans with you to get ongoing care your child will need after their stay. When your child is ready to leave Seattle Children's, the PBMU team will provide support to make the transition as easy as possible. The skills learned during your child's stay can help your child and family cope and prevent crises in the future.
Learn more about what to expect in the PBMU.
Resources
How to Get Services
Children and teens are admitted to the PBMU only after they come to an emergency room and providers there decide they would benefit from an inpatient stay.
Who's on the team?
To take complete care of your child, we have people on our team from many areas of healthcare, including psychiatrists, psychologists, nurse practitioners, mental health therapists, board-certified behavior analysts, pediatric mental health specialists, nurses, registered dietitians, educators, occupational therapists and speech and language pathologists.
To Inspire Change, Javi Shares Her Mental Health Struggles (Video. 2:54)
Javia Barria started struggling with her mental health as a middle schooler and received care at Seattle Children's and other healthcare facilities. She shares her story to support others going through similar challenges and in the hopes of ending the mental health stigma and creating a more compassionate community.
Have insurance questions?
Paying for Care
Learn about paying for care at Seattle Children's, including insurance coverage, billing and financial assistance.