Odessa Brown Children's Clinic
Lenny Wilkens Recreation Center
Odessa Brown Children's Clinic (OBCC) Othello invites nonprofit organizations to request use of the Lenny Wilkens Recreation Center beginning January 2024.
About Lenny Wilkens
Seattle Children's hosted a dedication of the Lenny Wilkens Lobby and Recreation Center at OBCC Othello on October 15, 2022 to honor Lenny and Marilyn Wilkens, The Lenny Wilkens Foundation, family and friends for their decades of support of the patients and families at Odessa Brown Children's Clinic. This video features highlights from that special day.
About the Space
The Lenny Wilkens Recreation Center is 50' x 40' (or 2,000 sq ft). Unfortunately, the community kitchen is NOT available for rent at this time. The event capacity limit is 150.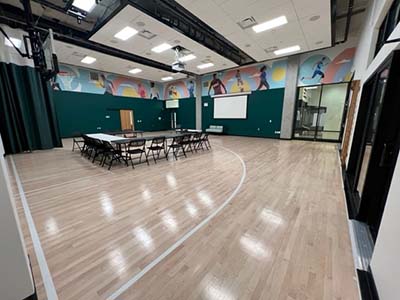 Who can rent the space?
All space use requests must meet these criteria:
User must be a nonprofit organization.
Planned event must involve or promote health, wellness, recreational, educational or other purposes consistent with OBCC Othello's mission.
Request must be submitted at least 4 weeks before the date of the event.
User may not conduct commercial or business activities of any kind during the event, including:

Charging participants
Selling food
Selling other items (examples: books, CDs, crafts, etc.)

User must complete the request form below and submit all requested documents and information before the event.
User must agree to complete additional forms as requested by OBCC Othello. These forms may include participant waivers, a space utilization agreement, acknowledgment of rules and other items as needed.
User must agree to any space use charges that OBCC Othello may require. These fees may include a damage/security deposit, rental charges, charges to cover staff time, janitorial expenses, and other fees.
Space use requests will be approved on a one-time basis for the specific date and time of the event, unless otherwise agreed to by OBCC Othello. Additional space use requests must be submitted using the form below and include all requested documents and information. Requests for space use must be submitted at least 4 weeks before the date of the event.
We use the Lenny Wilkens Recreation Center for clinic operations, other healthcare purposes and charitable activities, so it is not always available for community use. OBCC Othello may refuse any request for use of our space, even if a space request was granted.
Amenities
6' rectangular tables
Durable plastic chairs
WiFi
Operating Hours
Monday – Saturday
8:00 a.m. – 8:00 p.m.
Parking
Event parking is limited to street parking. There is a loading zone in front of the OBCC entrance.
Contact Us
For any questions or for additional information, please contact Brittney Rogers at brittney.rogers@seattlechildrens.org.